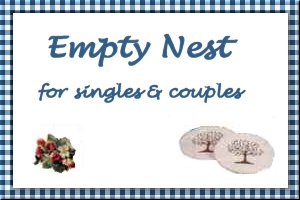 Stuffed Pork Chops
Submitted by: Barbiel
2 tablespoons chopped celery
2 tablespoons chopped onion
2 tablespoons butter or oleo
1/2 cup seasoned stuffing croutons
3 tablespoons milk
1 teaspoon minced parsley
1/4 teaspoon paprika
1/8 teaspoon salt
1/8 teaspoon pepper
2 boneless pork chops, 1-inch thick
3/4 cup beef broth
1-2 tablespoons cornstarch
2 tablespoons cold water

In a skillet, saute celery and onion in 1 tablespoon butter until tender. Transfer to a bowl. Add croutons, milk, parsley, parprika, salt and pepper. Cut a pocket in each pork chop; fill with filling. Brown chops in remaining butter. Transfer to a greased 9-inch square baking dish. Pour broth into dish. Cover and bake at 350°F for 30-35 minutes. Remove and keep warm. Pour pan drippings into a saucepan. Bring to boil. Combine cornstarch and water until smooth. Gradually stir into drippings. Cook and stir for 2 minutes or until thickened. Serve with the pork chops. 2 servings.

Braised Pork Chops with Cabbage
Submitted by: Kathie
2 10-ounce pork chops (1-inch thick)
Salt and freshly ground black pepper
1 tablespoon extra-virgin olive oil
1/4 small head red cabbage, thinly sliced
1/2 teaspoon caraway seeds
1/2 teaspoon dried thyme
2/3 cup apple cider
1/4 cup homemade chicken stock or low-sodium canned chicken broth, fat skimmed
1/2 large leek, white and green parts
Sprinkle pork chops with salt and pepper, pour oil in a large, straight-side skillet. Place skillet over high heat. Add pork chops. Cook until brown, about 3 minutes each side. Transfer to a plate; set aside. Add cabbage, caraway seeds, thyme, salt and pepper to taste, cider, and stock to skillet and bring to a boil. Cover, reduce heat to medium, and simmer, stirring occasionally, 12 minutes. Meanwhile, julienne the leek, and let stand in cold water 5 minutes to remove dirt and sand. Lift from the water, stir leeks into cabbage, replace cover, and cook 5 minutes. Add the reserved pork chops in a single layer, Cover, and cook until pork chops are tender or when an instant-read thermometer registers 145°F about 8 minutes. Remove from heat, and serve immediately.
Note: Carrot and Parsnip Puree makes an ideal accompaniment to this hearty dish.

Pork Tenderloin Stir Fry
Submitted by: Brenda
1/2 pound pork tenderloin, sliced thin
2 teaspoons canola oil
4 fresh mushrooms, sliced
3 green onions, sliced
1/4 cup frozen peas
3/4 cup thinly sliced cabbage
4 ounces bean sprouts
1 clove garlic, minced
1 teaspoon ground ginger
1/2 teaspoon sugar
1 tablespoon soy sauce
hot cooked rice
In a skillet, stir-fry pork in oil until done. Add mushrooms, onions and peas. Stir-fry for 1 minute. Add cabbage, bean sprouts, garlic, ginger and sugar; stir-fry for 2 minutes. Stir in soy sauce. Server over rice. Serves 2.
To submit your favorite recipes to be included in the Garden of Friendship Recipe Book, please email them to Barbiel
Background graphics made especially for the Recipes Committee of the Garden of Friendship by Valatine