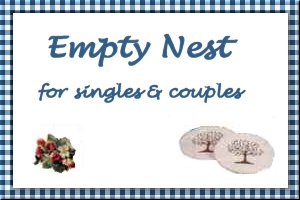 Asian Style Braised Ham Steak
Submitted by: Merribuck
1 pound, 1 inch thick ham steak
1/4 cup light soy sauce
1/4 cup dry sherry wine
1 to 2 tablespoons butter or vegetable oil
1 teaspoon minced fresh ginger
1/4 cup water
salt and freshly ground black pepper
1/4 cup finely sliced green onions
Remove rind and trim off all but 1/4-inch of outer fat. Score the fat edge at 1-inch intervals so the steak does not curl during cooking and divide ham steak into 2 serving pieces. Marinate ham in soy sauce and sherry wine. Remove ham from marinade. Reserve marinade. Dry the ham steak and lightly brown in butter for a minute or 2 on both sides. Add ginger, water and reserved marinade to the skillet and bring to a boil. Cover and cook for 5 minutes or until heated through. Remove ham to a serving platter. Boil the liquid down until syrupy and season to taste with salt and pepper. Stir in the scallions and spoon sauce over steak. Yield: 2 servings.

Polenta with Broccoli Rabe
Submitted by: KatS
1 1/2 - 2 cups chopped, cleaned Cima di Rape (broccoli rabe - see Note 1)
1 cup Polenta
1/4 cup finely chopped Pancetta (see Note 2), cooked, reserving drippings
red pepper flakes
Bring 1 1/2 liters of water to a boil with a pinch of salt. Add the broccoli rabe and cook for a minute. Begin to add the cornmeal in a slow stream, stirring continuously. Simmer, and stir for about 25 minutes. Add the Pancetta and red pepper flakes, and cook another 10 minutes or until tender. Season with the red pepper flakes. Once cooked, pour onto a board and leave for about 5 minutes. Serve each helping with a selection of cheeses, or some tasty grilled sausages. Serves 2-3.
Notes:
1 - Pancetta is a large slice of pork fat back, cured in salt. Can be found at italian food stores.
2 - Cima di Rape: This is a classic from Puglia in the south of Italy and becoming very popular in America. Broccoli rabe goes under many names, such as Broccoli Rape (pronounced "rap-ay"), Rape and Cima di Rape. It is a peppery-tasting broccoli that works well with roasted or grilled meats Can be substitued by: Chinese broccoli (similar, but not as bitter) or dandelion greens or Swiss chard or mustard greens or turnip greens or kale or broccoli (milder, takes longer to cook) or cauliflower or watercress.

Hot Spicy Pork Chops
Submitted by: KatS
2 pork chops, 3/4-inch thick
1/2 teaspoon garlic powder
1/4 teaspoon salt
1/8 teaspoon black pepper
1/8 teaspoon Cayenne pepper
1/2 tablespoon butter
1 tablespoon oil
1/2 can (7- 8 ounces) stewed tomatoes
Combine garlic powder, salt, and both peppers. Sprinkle on both sides of chops. In large skillet, heat butter and oil over medium heat. Add pork chops and cook 5 minutes on each side. Drain. Add tomatoes. Cover and cook over medium heat 15-20 minutes or until meat is cooked. Remove meat and keep warm. Cook sauce until thickened. Spoon over meat. Serves 2.

To submit your favorite recipes to be included in the Garden of Friendship Recipe Book, please email them to Barbiel
Background graphics made especially for the Recipes Committee of the Garden of Friendship by Valatine