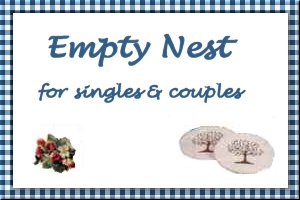 Salmon Mousse Salad
Submitted by: Kathie
1 8-ounce can salmon
1 can tomato soup
2 tablespoons unflavored gelatin in 1/4 cup cold water
1 8-ounce package cream cheese
1 cup salad dressing
1 cup chopped green pepper
1 cup chopped celery
1 small onion, chopped
1 tablespoon Worcestershire sauce
salt and pepper
Heat undiluted soup on low. Add cream cheese. Stir to soften cheese. Add gelatin and salmon. Fold into this the salad dressing, chopped green peppers, chopped celery, chopped onion, Worcestershire sauce, salt and pepper. Pour into an oiled fish mould. Chill. Unmould onto a lettuce lined tray. Put a slice of olive in place for an eye. Makes 2 servings.

Garden Salad
Submitted by: Barbiel
2 cups torn iceberg lettuce
2 cups torn Bibb lettuce
1 stalk celery, sliced
1 carrot, shredded
1/2 cup mandarin oranges, drained
1 tablespoon sliced almonds, toasted
Wash lettuces and cut in not too small pieces. Mix with all ingrdients. Serve with Garden Dressing. Makes 2 servings.
Garden Dressing:
3/4 cup vegetable oil
1/4 cup wine vinegar
1/4 cup catsup
2 tablespoons water
1 tablespoon soy sauce
1 tablespoon Worcestershire sauce
1/3 cup sugar
1 clove garlic, minced
1 teaspoon dried whole basil
Combine all ingredients in a jar; cover tightly, and shake vigorously. Chill thoroughly. Yield: 1 1/2 cups.

Asian Pasta Salad
Submitted by: Barbiel
1/2 tablespoon sesame seeds
1 tablespoon sesame oil
1 cup snow peas
1/2 cup red onion, diced
1 red pepper, chopped
2 cups broccoli florets
1 cup Asian style salad dressing
1 tablespoon minced garlic
1 tablespoon minced fresh ginger root
1 (16 oz) package of pasta
salt and pepper to taste
fresh herbs to garnish (optional)
Boil broccoli for 3 to 5 minutes then remove from water. Boil snow peas for 1 to 2 minutes then remove from water. Boil past until soft and drain. Toss pasta with salad dressing. Add broccoli, red pepper, red onion, snow peas, ginger, and garlic. Add salt and pepper to taste. Refrigerate for several hours. Garnish with sesame oil and sesame seeds and with fresh herbs, if you desire. Makes 2 servings.

To submit your favorite recipes to be included in the Garden of Friendship Recipe Book, please email them to Barbiel
Background graphics made especially for the Recipes Committee of the Garden of Friendship by Valatine