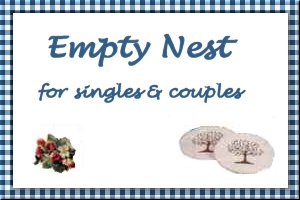 Primavera Salad
Submitted by: Barbiel
1 head green leaf lettuce, chopped
1 small zucchini, sliced
1/4 cup carrots, grated
1/4 cup mushrooms, sliced
1/4 cup radish, sliced
1/2 cup cucumber, sliced
2 medium tomatoes, cut into wedges
1 green onion, sliced
vinaigrette
Parmesan cheese, grated (optional)
Divide the lettuce into two large salad bowls. Top with the vegetables. Add your favorite vinaigrette or salad dressing. Garnish with the cheese. Serve well chilled. Serves 2.

Spinach Salad with Orange and Sweet Potato
Submitted by: Cricket
1 oz. sweet potatoes
1/2 medium onion, thinly sliced
2 teaspoons sugar
1 large orange
1/8 teaspoon salt
1 1/2 tablespoons fresh orange juice
1 tablespoons apple cider vinegar
1/8 teaspoon white pepper
3 tablespoons Olive oil
1/2 lb. fresh spinach, stemmed and torn
1 tablespoon fresh lime juice
Pierce the sweet potatoes, then bake them in 425°F oven for 45 minutes, or until tender, or microwave the potatos for 5 - 7 minutes. Slice the potatoes. Peel oranges with a knife, removing as much of the pith as possible; then slice the oranges. To make the dressing, whisk together the orange juice, vinegar, oil, lime juice, sugar, salt, and white pepper. Place the spinach on a platter or on individual plates. Arrange the orange and sweet potato slices on top of the spinach. Loosely top with the thin rings of onions and drizzle the dressing over everything. Serves 2.

Nicoise Salad
Submitted by: Merribuck
6 small new potatoes, cooked until tender
1 pound green beans steamed until crisp-tender
1/2 pound mixed greens
1 cup artichoke hearts
6 tomato wedges
3 hard boiled eggs, halved
1/2 cup black olives
1 (6-ounce) can tuna packed in water
In a bowl, whisk together white wine, Dijon, garlic, and pepper. Drizzle in olive oil while whisking constantly. Arrange salad decoratively on a platter. Drizzle with the Vinaigrette Dressing. Serves 2.
Vinaigrette Dressing:
3 tablespoons white wine vinegar
2 teaspoons Dijon mustard
1 teaspoon garlic, smashed with salt until paste
pepper to taste
9 tablespoons extra virgin Olive oil

To submit your favorite recipes to be included in the Garden of Friendship Recipe Book, please email them to Barbiel
Background graphics made especially for the Recipes Committee of the Garden of Friendship by Valatine