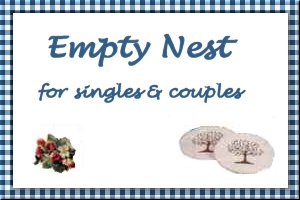 Panzanella
Submitted by: Vadi
1/2 pound day old chewy farm style bread, cubed
water to cover
4 small vine ripe tomatoes, chopped
1 small red onion, chopped
1 cup loosely packed basil leaves, torn or shredded
2 tablespoons red wine vinegar
1/4 cup extra-virgin olive oil
salt and freshly ground black pepper
Place bread in a medium mixing bowl and cover with water. Soak bread 3 to 5 minutes. In small batches, remove bread in handfuls from the water and wring it out with out mashing or tearing bread. You do not want wet bread, so wring it carefully. Combine tomatoes with onions and basil in a second bowl and dress with vinegar, oil, salt and pepper. Add bread to tomato salad and combine. Adjust seasonings and serve. Serves 2.

Shrimp and Avocado Salad
Submitted by: Lady Lynda
1/2 ounce cooked salad shrimp
1 tablespoon chopped fresh chives
salt to taste
2 tablespoons and 2 teaspoons mayonnaise
1 1/2 teaspoons Worcestershire sauce
1 tablespoon chili sauce
1 avocado
1 1/2 teaspoons lemon juice
1 head Bibb lettuce
1/2 teaspoon paprika
1/2 (4 ounce) jar pimentos
In a small bowl combine, shrimp, chives, salt, mayonnaise, Worcestershire sauce and chili sauce. Gently mix together. Cut avocado in half and remove the pit. Mound shrimp salad into avocado and sprinkle with lemon juice. Place avocado on Bibb lettuce leaves that have been dusted with paprika. Garnish with strips of pimento and serve. Makes 2 servings.

Bulgur Salad
Submitted by: Barbiel
1/4 cup bulgur
1 tablespoon fresh lemon juice
salt to taste
1/4 teaspoon black pepper
1/4 cup fresh mint, finely chopped
1 big scallion, thinly sliced
1/4 cup Olive oil
1 medium bell pepper, diced
1 large tomato, seeded and chopped
Prepare the bulgur: Bring 2 cups water to a boil over medium-heat in a 2 to 3 quart saucepan. Stier in the bulgur and reduce the heat to medium-low. Cover and simmer the bulgur for 8 to 12 minutes or all the water has been absorbed. Transfer to a large bowl and allow to cool to room temperature. When cool, cover and refrigerate until chilled. In a medium non-meatl bowl whisk together the lemon juice, salt, pepper, scallions and Olive oil until well blended. Add bell pepper and tomato. Adjust seasoning to taste. Cover and refrigerate until ready to serve. Fluff the chilled bulgur with a fork and toss together with the dressing mixture. Taste and adjust seasoning if necessary. Garnish with fresh mint. Transfer to a serving bolw or platter and serve on a bed of lettuce. Serves 2.

To submit your favorite recipes to be included in the Garden of Friendship Recipe Book, please email them to Barbiel
Background graphics made especially for the Recipes Committee of the Garden of Friendship by Valatine