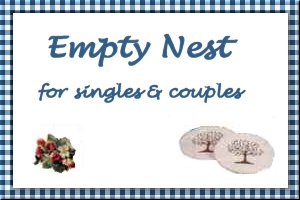 Bowtie Pasta Salad
Submitted by: PrayingBear
1/4 (16 ounce) package bow tie pasta
1/2 green onions, chopped
1/4 (6 ounce) package Feta cheese, crumbled
2 tablespoons balsamic vinegar
1 tablespoon extra virgin Olive oil
1/2 cup chopped fresh tomato
Bring a large pot of lightly salted water to a boil. Add pasta and cook for 8 to 10 minutes or until al dente; drain and place in ice water until cool. Toss pasta with onion, feta, balsamic, olive oil and tomato. Serve immediately or chill 1 to 2 hours in refrigerator. Makes 2 servings.

Cobb Salad Sandwich
Submitted by: Ginadapooh
2 tablespoons reduced calorie blue cheese salad dressing
4 slices turkey breast slices
2 slices bacon, cooked
4 slices romain lettuce
1 whole tomato, sliced
4 slices bread
Toast bread. Spread one side of each slice of toast with 1/2 tablespoon blue cheese dressing. On one slice of toast layer 2 slices trukey, 1 slice bacon, 2 slices lettuce, and 1/2 tomato. Top with anoter slice of toast. Reapeat for second sandwich.

Broiled Marinated Tofu Sandwich
Submitted by: Merribuck
12 ounces firm tofu (Chinese-style)
1/2 teaspoon each ground cumin, chili powder and dried oregano
1/4 cup Olive oil
1 medium clove minced garlic
1/4 cup white wine vinegar
1/4 cup dry white wine
4 thick slices whole wheat bread, lightly toasted
Chili Mayonnaise (see below)
sliced tomato, washed arugula and, optional: slices of red onion
salt and freshly ground black pepper
Cut tofu into 1-inch thick slices. Drain. Set them on a sheet, cover with another baking pan or cookie sheet and weight down with something heavy; drain for at least 1/2 hour to remove excess water. In a small cast iron skillet toast cumin, chili and oregano until they emit a lovely aroma. Remove to a nonreactive saucepan and add olive oil, garlic, vinegar and white wine. Bring to a simmer. Transfer drained and weighted tofu to a ceramic or glass dish and pour marinade over tofu. Cover with plastic and refrigerate for a day at least or, for up to 3 to 4 days. Preheat the broiler. Remove marinated tofu, pat dry and broil, about 6 inches away from the heat until crispy on each side. Spread bread with mayonnaise; slice tofu in half to make 1/2-inch slices and set over mayonnaise. Top with tomato, arugula and onion if you wish. Spread second slice of toasted bread with chili mayo and cover sandwich. Yield: 2 servings.
Chilli Mayonnaise
(Recipe Courtesy of Michelle Urvater)
1 cup mayonnaise
1 tablespoon Dijon mustard
2 tablespoons each chopped celery, red pepper and scallion
1/2 teaspoon toasted chili powder
small clove garlic, minced
White wine vinegar to thin if needed
salt and pepper to taste
Combine all of the ingredients. Yield: 1 cup.

To submit your favorite recipes to be included in the Garden of Friendship Recipe Book, please email them to Barbiel
Background graphics made especially for the Recipes Committee of the Garden of Friendship by Valatine