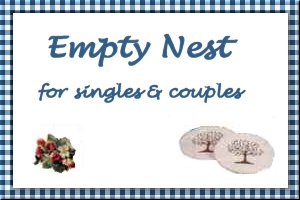 Greek Potato Salad with Dried Tomatoes
Submitted by: Cricket
3 medium potatoes, cut into 1/4-inch slices
1 cup dried tomatoes, halved with kitchen shears
1 cup sliced seedless cucumber
1/2 cup sliced red onion
1 cup crumbled feta cheese
1/2 cup Greek olives, or pitted ripe olives
1/4 cup Olive oil
1/4 cup water
2 1/2 tablespoons lemon juice
1 large clove garlic, pressed
1 tablespoon chopped fresh oregano
(or 1 teaspoon dried oregano leaves)
1 teaspoon salt
1/2 teaspoon pepper
In 2-quart saucepan over medium heat, cook potatoes, covered, in 2 inches boiling water until tender, about 12 minutes. Drain and set aside. Meanwhile, in small bowl, cover tomatoes with boiling water; set aside 10 minutes while you whisk together dressing ingredients. Thoroughly drain tomatoes and pat dry with paper towels. Add potatoes, tomatoes and cucumbers to bowl containing dressing; toss to coat. Mound potato mixture on plate. Arrange onion, cheese and olives on top. Makes 2 servings.

Turkey and Cream Cheese Bagel Sandwich
Submitted by: LisaW
2 small wheat bagels
4 tablespoons nonfat cream cheese, divided
tomato slices
alfalfa sprouts
2 portions turkey lunch meat, divided
salt and pepper to taste
Spread cream cheese on bagels, pile on toppings and enjoy. Makes 2 servings.

Lemon Chicken with Pita Triangles and Tomato Cucumber Salad
Submitted by: LisaW
2 portions cooked chicken, diced
1/4 Falafel mix
low fat Hummus
1/2 Pita bread, cut into triangles
1/2 cup each diced cucumber and tomato
1 lemon, halved
1/4 cup vinegar
chopped fresh cilantro
Squeeze juice of half a lemon into a bowl. Add vinegar and cooked chicken. Let sit for a few minutes. Make Falafel according to low-fat directions on package. Spray nonstick skillet lightly with cooking oil. Cook chicken until heated through. Toast triangles. Combine cucumber and tomato with juice of half a lemon, cilantro, 2 teaspoons of Olive oil (optional) and a dash of salt. Serve chicken and Falafel with Hummus, Pita triangles and cucumber tomato salad. Serves 2.

To submit your favorite recipes to be included in the Garden of Friendship Recipe Book, please email them to Barbiel
Background graphics made especially for the Recipes Committee of the Garden of Friendship by Valatine