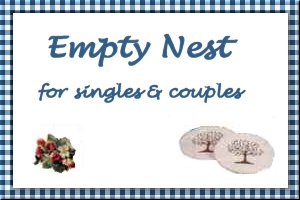 Light Salad
Submitted by: PrayingBear
3 cups salad greens
1 green onion, chopped
1/2 cup seedless grapes, sliced in halves,
1 small can Mandarin oranges, drained.
1 cup cooked chicken, cubed
Dressing (see below)
Toss til evenly mixed. Makes 2 servings.
Make Dressing using 1/4 cup Miracle Whip or other salad dressing, and 1 six ounce can orange juice concentrate. Pour amount desired over salad. Refrigerate any remaining dressing.
Note: This is a great light meal during the summer.

Enchanted Forest Salad
Submitted by: Barbiel
12 ounces fresh wild mushrooms, assorted, sliced (shiitakes, criminis, oysters)
extra virgin Olive oil, for sauteing
3 tablespoons fresh herbs, assorted, chopped (tarragon, parsley, chives, thyme)
2 1/4 ounces arugula, oakleaf and radicchio leaves, washed and dried
3 tablespoons pine nuts, (pignolis) toasted
3 tablespoons tomatoes, peeled, diced (concasse)
Vinaigrette (recipe below)
Place Olive oil in pan, heat thoroughly. Add mushrooms. Sauté until cooked. Add Vinaigrette to pan. Toss. Add herbs to pan. Toss. Place hot mushrooms in bowl with lettuces. Toss. Add nuts and concasse of tomatoes. To serve, divide into 12 plates, layering mushrooms on top. Serves 2.
Vinaigrette:
3 tablespoons shallots, chopped
1/2 cup extra virgin Olive oil
1/4 cup balsamic vinegar
salt and pepper to taste
Combine ingredients. Pour over salad. Serve immediately.

Smoke Salmon Pizzas
Submitted by: De
2 pita breads
1/4 cup pizza sauce
1/4 pound smoked salmon, chopped
1 small red onion, thinly sliced
1 cup shredded Italian blend cheese (or mozerella)
1/4 teaspoon dried oregano
Place pitas on baking sheet. Top with pizza sauce, salmon, onion, cheese and oregano. Bake at 425°F for 7-10 minutes or until cheese is melted.

To submit your favorite recipes to be included in the Garden of Friendship Recipe Book, please email them to Barbiel
Background graphics made especially for the Recipes Committee of the Garden of Friendship by Valatine