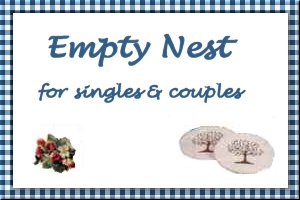 South Pacific Salad
Submitted by: LadyGenes
Wontons:
1/4 cup coarsely chopped macadamia nuts, divided
4 (7 x 7 inch) egg roll wrappers, divided
4 teaspoons corn syrup, divided
1 teaspoon black sesame seeds, divided
Asian Dressing:
(recipe below)
Salad:
1 medium carrot, peeled and cut into julienne strips
1/2 small red bell pepper, sliced into thin strips
1 can (11 ounces) mandarin oranges, drained
1 cup sugar snap peas
2 cups chopped cooked chicken
2 cups (3 ounces) European mix salad blend of lettuce and baby greens
2 tablespoons low-fat sesame-ginger salad dressing
Preheat oven to 375°F.
For Wontons, coarsely chop macadamia nuts. Place two egg roll wrappers on cookie sheet. Drizzle 1 teaspoon corn syrup over each wrapper; spread syrup evenly over entire surface. Sprinkle each wrapper with 1 tablespoon nuts and 1/4 teaspoon sesame seeds. Bake 10-12 minutes or until golden brown. Remove wontons to a cooling rack. Cool completely. Repeat with remaining wrappers.
For Salad, cut carrot into julienne strips then cut into matchstick pieces. Slice bell pepper into thin strips. Place carrot, bell pepper, oranges, peas, chicken and greens in large mixing bowl. Drizzle with salad dressing. Toss to coat.
Place two wontons on medium plates, top each wonton with half of the salad mixture. Top with remaining wontons. Serve immediately with additional dressing, if desired.
Note: An Asian Dressing recipe for the salad if desired:
Combine 1/3 cup rice vinegar, 3 tablespoons soy sauce, 2 teaspoons sugar, 1 pressed garlic clove, 1/4 teaspoon ground ginger and 3/4 cup vegetable oil in a medium mixing bowl. Whisk until blended. Refrigerate until ready to use.

Mandarin Spinach Salad
Submitted by: Praying Bear
fresh spinach leaves, washed and patted dry
1 small can Mandarin orange slices, well drained
1 teaspoon freshly chopped chives
1/4 cup plain or seasoned croutons
raspberry vinegar
Fill 2 salad plates with spinach leaves. Divide the Mandarin orange slices and place on top of the spinach leaves. Sprinkle half the chives over each salad. Just before serving, sprinkle half the croutons over each salad and drizzle with raspberry vinegar.

Mini Ham and Cheese Rolls
Submitted by: BettyG
2 tablespoons dried minced onion
1 tablespoon prepared mustard
2 tablespoons poppy seeds
1/2 cup butter, melted
24 dinner rolls
1/2 pound chopped ham
1/2 pound thinly sliced Swiss cheese
fresh ground pepper (optional) to taste
Preheat oven to 325°F (165°C). In a small mixing bowl, combine onion flakes, mustard, poppy seeds and butter. Season with pepper (optional). Split each dinner roll. Make a sandwich of the ham and cheese and the dinner rolls. Arrange the sandwiches on a baking sheet. Drizzle the poppy seed mixture over the sandwiches. Bake for 20 minutes, or until cheese has melted. Serve these sandwiches warm.

To submit your favorite recipes to be included in the Garden of Friendship Recipe Book, please email them to Barbiel
Background graphics made especially for the Recipes Committee of the Garden of Friendship by Valatine