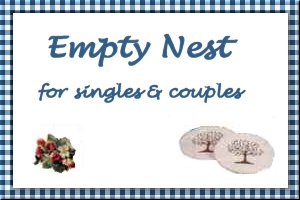 Chicken and Corn Chowder with Thyme
Submitted by: Jezebel Jen
3 slices bacon, chopped
1 medium onion, chopped
1 14 1/2-ounce can low-salt chicken broth
1 12-ounce potato, peeled, cut into 1/2-inch pieces
2 cups corn kernels, fresh
(or 10 ounce package frozen)
6-8 ounces skinless boneless chicken thighs
(cut into 1/2-inch pieces)
2 tablespoons fresh thyme chopped
(or 1 1/2 teaspoons dried)
1 cup half and half

Cook bacon in heavy large saucepan over medium-high heat until brown and crisp, about 5 minutes Using slotted spoon, transfer bacon to paper towels and drain. Discard all but 2 tablespoons drippings from pan. Add onion; sauté until beginning to soften, about 3 minutes. Add broth and potato. Cover pan; simmer 5 minutes. Add corn, chicken and thyme. Partially cover pan; simmer until chicken is cooked through and vegetables are tender, about 8 minutes. Add half and half and bring to simmer, about 2 minutes. Season to taste with salt and pepper. Ladle into bowls. Sprinkle with cooked bacon and serve. Serves 2.

Oyster Soup
Submitted by: Barbiel
1 medium carrot, peeled and grated in long, thin shreds
1/4 cup celery, finely diced
1/8 cup butter, melted
2 cups milk (or 1cup milk,1cup cream)
2 cups oysters
salt and pepper to taste
Peel and grate in long thin shreads, the carrots and add finely diced celery. Melt butter in saucepan and add the vegetables. Stir. Cover and simmer over very low heat for 20 minutes, without browning the vegetables. Add milk (or use 1/2 milk, 1/2 cream). Bring to a boil. Heat oysters in enamelled cast iron pan over medium heat and do not boil. Pour into milk and serve. Season with salt and pepper. Makes 2 servings.
Note: The soup should be served as soon as ready, otherwise it tend to curdle. The milk and vegetables can be be prepared ahead of time and the oysters heated and served at the last minute.

Avocado Curry Soup
Submitted by: Barbiel
1 avocado, peeled and cubed
1 1/4 cups chicken stock
1/2 teaspoon curry powder
salt to taste
white pepper to taste
1/4 cup whipping cream
Blend the avocados with 1 cup of the chicken stock in a food processor until smooth. Stir in the remaining stock and the remaining ingredients. Chill. Garnish with sliced or cubed avocados when ready to serve. Serves 2.

To submit your favorite recipes to be included in the Garden of Friendship Recipe Book, please email them to Barbiel
Background graphics made especially for the Recipes Committee of the Garden of Friendship by Valatine