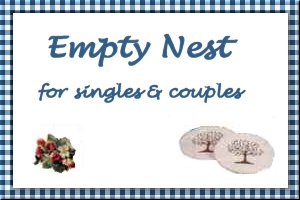 Turkey-Rice Soup
Submitted by: LisaW
2 1/2 cups water
1 small onion, chopped
2 small carrot, bias sliced
2 tablespoons long grain rice
2 teaspoons instant chicken bouillon granules
1/8 teaspoon dried basil, crushed
1 cup diced cooked turkey or chicken
1/2 cup frozen peas
2 tablespoons dry Marsala or dry sherry
salt and pepper to taste
In a 1-1/2-quart saucepan combine water, onion, carrot, uncooked rice, bouillon granules, and basil. Bring to boiling, then reduce heat. Cover and simmer mixture about 15 minutes or until rice is tender. Stir in turkey or chicken and peas; simmer, uncovered, about 5 minutes or until vegetables are tender. Stir in Marsala or sherry. Season with salt and pepper, if desired. Makes 2 servings.

Squash Soup
Submitted by: CajunSue
1/4 cup margarine
1 medium white onion
3 or 4 cups cooked pumpkin or other squash
1/2 teaspoon ground black pepper
1/2 teaspoon dried crushed red pepper (optional)
1 1/2 cups soup stock
Chop the onion coarsely. Melt the margarine in a large saucepan. Stir the onion into the melted margarine, pepper, and red pepper (optional), and cook until the onion is very brown but not burned, about 30 minutes, on low to medium heat. Stir frequently and keep covered. Add the cooked squash and stir in the vegetable stock. Bring to a boil, reduce heat, and simmer for at least 45 minutes, covered, on low to medium heat. If the soup seems too watery, simmer uncovered until it reduces. Season with some salt, if necessary. Serve hot, topped with cilantro or parsley (optional). Serves 2.

Hamburger Vegetable Soup
Submitted by: Lady Lynda
1/2 pound ground beef
2 cups chicken broth
2 cups water
1 (1 ounce) package dry onion soup mix
1/2 (15 ounce) can tomato sauce
1 stalk celery, chopped
1/2 onion, chopped
1/2 (16 ounce) package frozen mixed vegetables
1/4 cup and 2 tablespoons elbow macaroni
In a saute pan, brown ground beef, over medium heat. In a large stock pot, combine broth, water, onion soup mix, tomato sauce, celery, onion, frozen vegetables and macaroni. Bring to a boil and then simmer until macaroni is done. Add browned ground beef, mix and serve. Serves 2.

To submit your favorite recipes to be included in the Garden of Friendship Recipe Book, please email them to Barbiel
Background graphics made especially for the Recipes Committee of the Garden of Friendship by Valatine