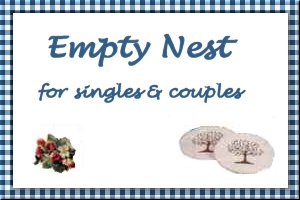 Turkey Wild Rice Soup
Submitted by: Barbiel
1 1/2 cups chicken or turkey stock
1/4 cup wild rice
1/4 cup finely chopped green onions
1/4 cup butter
1/8 cup all purpose flour
1/4 teaspoon poultry seasoning
pepper and salt to taste
1/2 cup half-and-half
1/2 cup cubed, cooked turkey or chicken
3 slices bacon, crisply cooked and crumbled
1 tablespoon Worcestershire sauce
1 tablespoon dry Sherry
In large saucepan combine chicken stock, rice, and onion; simmer 35 to 40 minutes until rice is tender. Lightly spoon flour into measuring cup level off. In medium saucepan, melt butter; stir in flour, salt, poultry seasoning and pepper. Cook over low heat, stirring constantly, until mixture is smooth and bubbly. Add half-and-half; cook 2 minutes until mixture thickens slightly, stirring constantly. Slowly add half-and-half mixture to rice mixture, stirring constantly. Add remaining ingredients. Heat thoroughly and serve. Makes 2 servings.

French Onion Soup
Submitted by: Barbiel
2 tablespoons Olive oil
2 cups thinly sliced onions
1 can (10.5 ounces each) beef broth (bouillon)
1/4 cup Coca-Cola
salt and fresh ground pepper to taste
1/4 teaspoon vinegar
thick French bread slices
grated Parmesan cheese
Heat Olive oil in heavy saucepan. Add onions and cook until golden (do not brown). Add undiluted beef broth, 1/2 soup can of water, Coca-Cola, salt, vinegar and pepper. Cover and simmer 20-25 minutes. In a broiler, toast one side of the French bread slices. Turn, generously sprinkle with Parmesan cheese and toast until browned. Ladle soup into deep bowls and top with toast, cheese side up. This recipe makes about 3 cups or 2 servings.
Note: To reduce foam for accurate measurement, use Coca-Cola room temperature and stir rapidly.

Ginger Soup
Submitted by: Barbiel
1 tablespoon Olive oil
two small leeks, thoroughly washed and sliced
1 tablespoon fresh ginger root, grated
1 parsnips, chopped into small pieces
1 cup dry White wine
2 1/2 cups vegetable broth or water
salt and pepper to taste
paprika (optional)
Heat oil in a large pan over low heat. Add leeks and ginger. Cook until the leeks begin to soften, about two minutes. Add parsnips and cook six minutes. Pour in wine and broth or water and bring to a boil over high heat. Reduce heat and simmer for 15 minutes. Puree in blender until smooth. Season with salt and pepper to taste. Garnish with paprika, if desired. Makes 2 servings.

To submit your favorite recipes to be included in the Garden of Friendship Recipe Book, please email them to Barbiel
Background graphics made especially for the Recipes Committee of the Garden of Friendship by Valatine