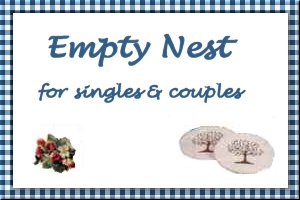 Tortellini Soup
Submitted by: Barbiel
32 ounces low-sodium, no-fat chicken broth
1/4 cup finely chopped onion
1 jalapeno pepper, seeded and finely chopped
1 cup cut-up fresh green beans
one large tomato, peeled and diced
one clove garlic, finely chopped
1 1/2 teaspoons tomato paste
one package (9 ounces) fresh cheese Tortellini
1/2 teaspoon dried basil
1/2 teaspoon dried oregano
1/2 teaspoon chili powder
several drops liquid hot pepper sauce (optional)
Place chicken broth in a heavy 3 or 5-quart saucepan. Add onion, jalapeno pepper, green beans and tomato as you cut them up; bring to a boil then reduce heat and simmer three to four minutes. Stir in garlic, tomato paste and Tortellini. Cook about four minutes. Add basil, oregano and chili powder. Continue cooking about two more minutes until Tortellini is tender and the flavors are blended. Stir in hot pepper sauce, if using. Recipe makes two to three servings.

Cajun Crab Soup
Submitted by: BettyG
1/2 cup unsalted butter
1 onion, chopped
2 cloves garlic, minced
1/4 cup all-purpose flour
2 cups clam juice
2 cups chicken broth
1 (10 ounce) package frozen white corn
1 teaspoon salt
1/2 teaspoon ground white pepper
1/4 teaspoon dried thyme
1/4 teaspoon ground cayenne pepper
2 cups heavy cream
1 pound lump crabmeat, drained
4 green onions, chopped
Melt butter in a large saucepan over medium heat. Saute onion and garlic until onion is tender. Whisk in flour, and cook 2 minutes. Stir in clam juice and chicken broth, and bring to a boil. Mix in corn, and season with salt, white pepper, thyme and cayenne. Reduce heat, and simmer 15 minutes. Stir in cream, crab meat, and green onions. Heat through, but do not boil once the cream has been added.

Columbian Chicken Soup
Submitted by: Merribuck

Stock:
1 chicken, 3 1/2 to 4 pounds, skinned and cut into 8 pieces, plus 1 whole chicken breast, skinned and cut in 1/2
1 medium onion, quartered
2 medium carrots, cut into 4 pieces
1 medium rib celery, cut into 4 pieces
1 bay leaf + 3 cloves garlic, pressed or minced
1/2 bunch fresh cilantro, stems only (leaves reserved for soup)
Salsa:
1 large very ripe tomato, halved, seeded, and finely chopped
1 scallion, finely chopped
1 clove garlic, crushed and mashed into a paste with 1/4 teaspoon salt
1/2 lemon or lime, juiced
1 jalapeno pepper, seeded and very finely minced
2 tablespoons minced cilantro leaves
salt to taste
Soup:
1 medium onion, finely chopped
3 medium carrots, peeled and finely chopped
1 medium rib celery, finely chopped
2 pounds baking potatoes, peeled and cut into 1/2-inch cubes
1 lemon or lime, juiced
2 cloves garlic, minced
1/2 bunch cilantro, leaves only, finely chopped
2 scallions, finely chopped
3 tablespoons Olive oil
1/4 teaspoon Bijol (available at Spanish grocery stores)
or
a pinch each of ground cumin and saffron threads
Combine all the ingredients for the stock in a large soup pot and cover with cold water. Bring to a boil over high heat, then reduce the heat to low and simmer uncovered for 1 1/2 to 2 hours, skimming any foam from the top of the stock as it simmers, until the chicken is fall-from-the-bone tender. Add water, as necessary, to keep the stock ingredients covered. Strain the stock through a fine mesh sieve, discarding everything except the boiled chicken, and return the stock to the rinsed-out pot. Remove the chicken from the bones and shred into small pieces. Set aside. Add the onion, carrots, celery and potatoes to the stock and simmer 20 to 30
minutes, or until the potatoes are tender. While the soup is simmering, combine the lemon or lime juice, garlic, cilantro leaves, scallions, oil, Bijol, and a tablespoon of the soup broth in a small bowl and mash into a paste with a fork. Also while the soup is simmering, prepare the salsa by combining all ingredients in a glass or stainless steel bowl and mixing well. Season, to taste, with salt just before serving. When the potatoes are tender, add the reserved chicken and seasoning paste to the soup and stir well to combine. Allow the soup to return to a simmer, then remove from the heat, and let sit, covered, 10 minutes before serving. Serve garnished with a spoonful of the salsa.

To submit your favorite recipes to be included in the Garden of Friendship Recipe Book, please email them to Barbiel
Background graphics made especially for the Recipes Committee of the Garden of Friendship by Valatine