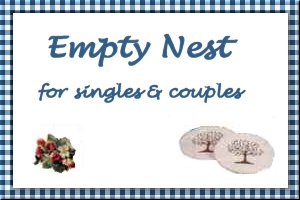 Asparagus Soup with Red Pepper Sauce and Lump Crabmeat
Submitted by: Merribuck
2 1/4 pounds fresh thin asparagus, tough ends discarded
2 tablespoons unsalted butter
1 cup chopped yellow onion
1 1/2 teaspoons minced garlic
1/2 teaspoon salt
1/4 teaspoon ground white pepper
4 cups chicken stock or vegetable stock
1/2 cup dry white wine
3/4 cup heavy cream
Red Pepper Sauce (recipe below)
1/4 pound lump crabmeat to garnish
Red Pepper Sauce (recipe below)
Cut 16 tips from the tops of the asparagus and reserve for garnish. Cut the remaining asparagus into 1/2-inch pieces. In a medium sized, heavy pot, melt the butter over medium-high heat. Add the onions and cook until soft, about 4 minutes. Add the garlic and cook, stirring, for 30 seconds. Add the asparagus, salt, and pepper, and cook, stirring, for 3 minutes. Add the chicken stock and white wine and bring to a boil. Reduce the heat and simmer until the asparagus are very tender, about 25 minutes. Meanwhile, bring a small pot of salted water to a boil. Add the asparagus tips and blanch until just tender, about 2 minutes. Drain and refresh in an ice bath. Add the cream to the soup and bring to a simmer and cook for 5 minutes. Transfer the soup in batches to a blender and process on high speed until very smooth. Remove from the heat and ladle into 4 large soup bowls. Swirl the Red Pepper Sauce in a decorative pattern over the soup in each bowl. Spoon 1 tablespoon of crabmeat into the center and arrange the blanched tips around the crabmeat. Serve immediately. Pair with: Brancott Reserve Sauvignon Blanc.
Red Pepper Sauce:
1 red bell pepper, about 8 ounces
4 1/2 teaspoons minced shallots
5 fresh cilantro leaves, roughly chopped
2 fresh basil leaves
1 teaspoon garlic
1/2 teaspoon crushed red pepper
1/8 teaspoon balsamic vinegar
1/4 teaspoon salt
1/8 teaspoon ground white pepper
1/2 cup extra-virgin Olive oil
Roast the peppers by placing them on an open gas flame, turning them frequently with tongs until all sides are charred black, about 7 to 10 minutes (alternately, the peppers can be roasted under a broiler, or on top of a gas or charcoal grill). Place the blackened peppers in a plastic or paper bag, and let rest until cool enough to handle, about 15 minutes. Peel the peppers, remove the seeds and stems and roughly chop. Combine the peppers, shallots, cilantro, basil, garlic, crushed red pepper, vinegar, salt and pepper in the bowl of food processor or blender, and process for 20 seconds. With the machine running, add the oil through the feed
tube in a steady stream and process until thick and smooth. Drizzle into the Asparagus Soup, and transfer any remaining into an airtight container and store in the refrigerator for up to 1 week. Yield: about 3/4 cup.

Hot and Sour Thai Soup
(Tom Yum Goong)
Submitted by: Merribuck
2 quarts chicken broth
2 stalks fresh lemongrass, sliced on a bias in 2-inch pieces
4 kaffir lime leaves
1-inch piece fresh galangal or ginger, sliced
2 red chiles, sliced
2 tablespoons fish sauce, such as nam pla
1 1/2 teaspoons sugar
1 (8-ounce) can straw mushrooms, rinsed and halved
1 pound large shrimp, peeled with tails on
2 limes, juiced
2 green onions, sliced
1 handful fresh cilantro, chopped
Bring the stock to the boil over medium heat in a saucepan. Add the lemongrass, kaffir lime leaves, galangal, and chiles. Lower the heat to medium-low, cover, and simmer for 15 minutes to let the spices infuse the broth. Uncover and add the fish sauce, sugar, and mushrooms. Simmer for 5 minutes. Toss in the shrimp and cook for about 8 minutes until they turn pink. Remove from the heat and add the lime juice, green onions and cilantro. Taste for salt and spices; you should have an equal balance of spicy, salty and sour.
Note: It's a good idea to tell your guest's that the lemongrass and lime leaves are for flavor only and should be avoided when eating the soup.

Title
Submitted by:
Ingredients
Ingredients
Instructions

To submit your favorite recipes to be included in the Garden of Friendship Recipe Book, please email them to Barbiel
Background graphics made especially for the Recipes Committee of the Garden of Friendship by Valatine