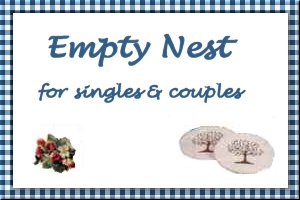 Bacon and Chive Potato Pancakes
Submitted by: Jezebel Jen
1 large russet potato
2 slices of cooked lean bacon, crumbled
2 tablespoons olive oil
2 tablespoons chopped fresh chives or green scallion
Sour cream (optional)

Peel the potato, grate it coarse, and press it between several thicknesses of paper towel to remove any excess moisture. In a bowl stir together the potato, the bacon, the chives, and salt and pepper to taste. In a large heavy skillet heat the oil over moderately high heat until it is hot but not smoking, form the potato mixture into 4 patties, and cook the patties, tamping them down with a spatula, for 5 to 7 minutes on each side, or until the pancakes are golden brown and cooked through. Serve the pancakes with the sour cream. Serves 2.

Sesame Asparagus
Submitted by: Brenda
12 fresh asparagus spears, trimmed
1/4 teaspoon salt
2 teaspoons butter or margarine
1 1/2 teaspoons lemon juice
1 teaspoon toasted sesame seeds

Place asparagus in skillet. Add 1/2 inch of water; bring to a boil. Reduce heat; cover and simmer until crisp tender, about 4 minutes. Melt butter, add lemon juice and sesame seeds. Drain asparagus; drizzle with butter mixture. 2 servings.

Stuffed Potatoes
Submitted by: Brenda
2 medium baking potatoes
1/2 cup cottage cheese
3 tablespoons mayonnaise
2 teaspoons prepared mustard
1/2 teaspoon dill weed
Salt and pepper to taste
1/2 cup + 1 tablespoon shredded cheddar cheese
1 hard boiled egg, chopped
1 tomato, sliced thin

Bake potatoes at 375 degrees for 1 hour, or until done. Cool. Cut a thin slice off the top. Scoop out pulp, leaving a thin shell. Mash the pulp with cottage cheese, mayonnaise, mustard, dill, salt and pepper. Stir in 1/2 cup cheese and egg. Spoon back into potato shells. Top with remaining cheese. Bake agin for 25-30 minutes until heated through. Garnish with tomato. 2 servings.
To submit your favorite recipes to be included in the Garden of Friendship Recipe Book, please email them to Barbiel
Background graphics made especially for the Recipes Committee of the Garden of Friendship by Valatine