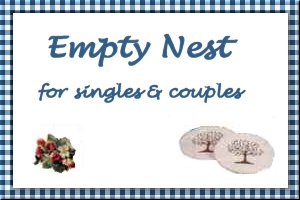 French Green Beans
Submitted by: Cathie
1 9-ounce package frozen French-style green beans
1 4 1/2-ounce jar sliced mushrooms, drained
3 tablespoons butter or margarine, melted
1/4 teaspoon dried rosemary, crushed
1/4 teaspoon dried basil
toasted slivered almonds
Cook green beans according to package directions; drain. Add mushrooms and keep warm. Combine butter, rosemary and basil; drizzle over bean mixture and toss to coat. Sprinkle with almonds. Yield: 2 servings.

Grilled Peppers and Apples
Submitted by: Barbiel
3/4 pepper
3/4 apple
1 1/2 teaspoons oil
1/4 teaspoon onion powder
1/8 teaspoon rosemary leaves, crushed
1/16 teaspoon garlic powder
1/16 teaspoon salt
1/16 teaspoon black pepper
Cut apples and peppers in wedges and toss them with all ingredients. Broil or grill the tossed apples and peppers 15 minutes. Makes 2 servings.

Asparagus with Mushrooms and Fresh Coriander
Submitted by: Barbiel
1/2 lb fresh asparagus
1 cup mushrooms, sliced
1/4 teaspoon salt
1/4 teaspoon sugar
2 tablespoons chopped, fresh coriander
1 tablespoon butter
1 tablespoon chopped shallots
freshly ground black pepper
Trim off tough part of asparagus stalk, about 2 to 3 inches from bottom. Use a vegetable peeler to scrap asgaragus to about 1 inch from top. Cut asparagus on diagonal into 1 inch pieces. Melt butter in a non stick frying pan. Add mushrooms and cook over high heat, tossing and shaking, until mushrooms are lightly browned. Add asparagus. Cook, stirring and tossing for about 1 minute. Add shallots, salt, sugar and pepper. Sprinkle with coriander. Cook for 30 seconds. Serves 2.

To submit your favorite recipes to be included in the Garden of Friendship Recipe Book, please email them to Barbiel
Background graphics made especially for the Recipes Committee of the Garden of Friendship by Valatine