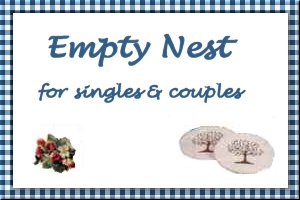 Skillet Vegetable Quiche
Submitted by: CajunSue
1 tablespoon unsalted butter
1/4 cup finely chopped onion
2 tablespoons chopped green pepper
1 clove garlic, finely chopped
1/2 pound summer squash, sliced 1/8th-inch thick
1/2 pound broccoli, stems chopped and florets
(cut into small sections)
1 egg
1/4 cup 2-percent milk
1/8 teaspoon cayenne pepper
1/4 teaspoon dry mustard
1/4 teaspoon marjoram
1/2 cup grated Swiss cheese
2 tablespoons grated Parmesan
In 12-inch nonstick skillet, melt butter; add onion and green pepper and cook over medium heat until onions are softened but not browned. Stir in chopped garlic, squash and broccoli; cover and cook 3-5 minutes until lightly steamed in its own liquid. Whisk together egg, milk, cayenne pepper, dry mustard and marjoram. Stir in grated Swiss cheese. Pour over partially cooked vegetables in skillet. Sprinkle Parmesan over everything in skillet. Reduce heat to low; cover and cook 5 minutes or just until cheese has melted and custard has set. To serve, cut into wedges with spatula and lift out of skillet onto plate. Makes 2 servings.

Butter Lettuce with Blood Orange, Fennel and Cilantro Cumin Vinaigrette
Submitted by: Cricket
1head butter lettuce
1 blood orange, peeled and sliced in thin slices
1/2 bulb fresh fennel, dicedts
Cilantro Cumin Vinaigrette (recipe below)
Cilantro Cumin Vinaigrette:
1/2 cup cider vinegar
1 tablespoons grainy Dijon mustard
1.5 teaspoon ground cumin
1 teaspoon minced garlic
1.5 cup virgin olive oil
several sprigs minced cilantro
salt and pepper to taste
Combine all vinaigrette ingredients, except olive oil, in a food processor. Slowly drizzle in the olive oil to form dressing. Season to taste. Using dinner plate, place washed greens onto plate, arrange blood orange slices and diced fennel in a pleasing pattern. Gently dress salad with vinaigrette. Serves 2.

Sugar Snap Peas with Basil and Lemon
Submitted by: Cricket
1 teaspoon olive oil
3/4 pound Sugar Snap peas
1/4 cup coarsely chopped fresh basil
1/2 teaspoon grated lemon rind
1/4 teaspoon salt
1/4 teaspoon gound white pepper
lemon wedges

Heat oil in a nonstick skillet over medium heat. Add peas; stir-fry 3 minutes or until crisp-tender. Sprinkle with basil and next 3 ingredients; Stir and fry for 1 minute. Serve immediately with lemon wedges. Makes 2 servings.

To submit your favorite recipes to be included in the Garden of Friendship Recipe Book, please email them to Barbiel
Background graphics made especially for the Recipes Committee of the Garden of Friendship by Valatine