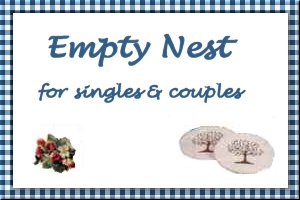 Green Beans with Buttered Pecans
Submitted by: Cricket
1/2 pound green beans
2 cups water
1/4 teaspoon salt
1 tablespoon butter or margarine
2 tablespoons chopped pecans
1/8 teaspoon pepper
Wash beans; trim ends and remove strings. Bring water and salt to a boil in a medium saucepan. Add green beans; cook, uncovered, 10 minutes or just until crisp-tender. Drain and set aside. Melt butter in a nonstick skillet; add pecans and cook until golden, stirring often. Add beans; toss gently and cook until thoroughly heated. Sprinkle with pepper. Yield: 2 servings.

Potato Galettes
Submitted by: Merribuck
3 tablespoons unsalted butter
2 medium baking potatoes
salt and pepper
Melt 3 tablespoons of butter. Peel the potatoes and slice thin on a mandoline or with a food processor fitted with a 1-millimeter slicing blade. In a bowl, toss potato slices with the butter, salt and pepper. On a parchment lined baking sheet, place 2 ring molds 3 inches wide and 2 inches deep. Layer the potato slices in the molds, overlapping the slices. Bake in a preheated 400°F oven for about 40 minutes until the bottom layer of potatoes is golden and crisp and the potatoes are cooked through. Makes 2 servings.

Home Fried Potatoes
Submitted by: CajunSue
2 medium potatoes, washed but not peeled
enough water in a saucepan to cover the potatoes
1 small white onion, chopped
salt and ground black pepper to taste
garlic powder (optional)
chili powder (optional)
dried crushed red pepper (optional)
Wash the potatoes and cut them into two or three pieces apiece. Cook them in water about twenty minutes, or until they're pretty soft. Take them out of the water and allow the water on them to evaporate, then slice the potatoes into small chunks. Fry the onion in a few tablespoons of vegetable oil until it is tender. Add the potatoes and fry at a medium-high heat until browned, about ten or fifteen minutes. Add salt, pepper, garlic (optional) chili powder (optional) and hot pepper (optional) to taste. Makes 2 servings.

To submit your favorite recipes to be included in the Garden of Friendship Recipe Book, please email them to Barbiel
Background graphics made especially for the Recipes Committee of the Garden of Friendship by Valatine