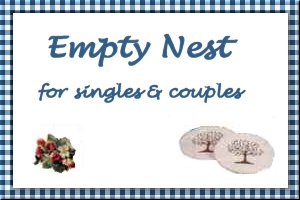 Mediterranian Green Beans
Submitted by: Vadi
1 1/2 to 2 pounds green beans, ends trimmed
1/4 cup olive oil
3 to 4 whole garlic cloves
3 to 4 anchovy fillets, chopped
1/2 cup green olives, pitted and halved
1/3 to 1/2 cup pimientos or roasted red pepper strips
1/2 teaspoon crushed red pepper
salt to taste
Blanch green beans in very salty water until crisp-tender. Drain and transfer to an ice bath to cool briefly. In a large skillet heat olive oil until hot. Add the garlic cloves and the anchovy fillets and saute briefly. Add green olives and pimientos and saute for 2 to 3 minutes. Add the green beans, crushed red pepper and salt, to taste. Continue to saute until green beans are hot and the flavors have come together, about 4 to 6 minutes. Serve hot. Makes 2 servings.

Deep Fried Eggplant
Submitted by: SueW
1/2 cup all-purpose flour or cornstarch
3 eggs, lightly beaten
2 cups fresh bread crumbs
1/2 teaspoon salt, plus additional for sprinkling eggplant
1 tablespoon Essence Creole (recipe below)
1 small eggplant
(cut crosswise into 1/4-inch thick slices and then quartered)
vegetable oil, for deep frying
marinara sauce (optional)
Place the flour, egg, and bread crumbs each in 3 small bowls. Add the 1/2 teaspoon of salt to the egg and whisk to combine. Season the bread crumbs with the tablespoon of Essence and stir with a fork or your hands to thoroughly combine. Dredge each piece of eggplant in the flour, coating thoroughly and then shaking to remove any excess flour. Coat each piece with the egg, then dredge in the bread crumb mixture, pressing to make the bread crumbs adhere. Transfer the eggplant pieces to a rack or to paper towels to let them dry slightly before frying. In a deep, heavy skillet heat 1/2-inch of vegetable oil to 375°F. Fry the eggplant pieces, in batches if necessary, for about 1 minute on each side, or until golden brown. Transfer with tongs to paper towels to drain. Sprinkle lightly with salt before serving. Serve with marinara sauce, or as desired. Yield: 2 servings as a side dish or appetizer or 4 servings as an hors d'oeuvre.
Emeril's Essence Creole Seasoning
(also referred to as Bayou Blast)
2 1/2 tablespoons paprika
2 tablespoons salt
2 tablespoons garlic powder
1 tablespoon black pepper
1 tablespoon onion powder
1 tablespoon cayenne pepper
1 tablespoon dried oregano
1 tablespoon dried thyme
Combine all ingredients thoroughly. Yield: 2/3 cup

Loaded Baked Potatoes
Submitted by: Ginadapooh
2 baking potatos
1/4 cup milk, 1% lowfat
2 ounces cream cheese
1 ounce Feta cheese
1 teaspoons oregano
salt and pepper
1 bacon slice crumbled
green onions to garnish
Pierce potatoes with a fork; bake at 400°F for 1 hour or until tender. Cool slightly. Cut each potato in half lengthwise, scoop out pulp into a large bowl, leaving 1/4-inch-thick shell. Mash pulp with a potato masher. Add milk and cream cheese to mashed potatoe; stir with a whisk. Add feta cheese, oregano, salt, and pepper; stir well. Spoon potato mixture into shells. Place on a baking sheet; bake at 400°F for 15 minutes or until thoroughly heated. Sprinkle each serving with 1 1/2 teaspoon green onions; top with bacon. Serves 2.

To submit your favorite recipes to be included in the Garden of Friendship Recipe Book, please email them to Barbiel
Background graphics made especially for the Recipes Committee of the Garden of Friendship by Valatine