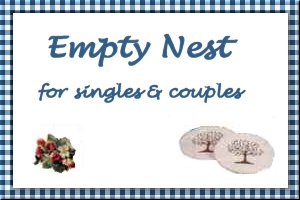 Scalloped Corn
Submitted by: Cricket
2 cans cream-style corn
2 eggs, slightly beaten
1/2 teaspoon salt
1/2 teaspoon sugar
1/4 lb saltine crackers
pepper to taste
1/2 stick (1/4 cup) melted butter
1/4 cup milk
Mix all ingredients together in greased casserole dish. Bake at 350°F for about 45 to 60 minutes or until top is brown and casserole is set. Makes 2 servings.
Note: Can be served with a very spicy tomato (or any other vegetable) sauce your preference.

Roasted Carrots
Submitted by: Barbiel
1 lb carrots peeled and cut into 1 1/2 inch pieces on the diagonal
1/4 cup butter melted
1 tablespoons minced dill
salt and pepper to taste
Mix butter, salt and pepper. Pour over carrots. Spread out on a greased baking sheet. Place in oven at 400°F and roast 20 minutes or until tender. Toss with fresh dill and serve. Makes 2-3 servings.
Note: Mixing 1/8 cup butter plus 1/4 teaspoon honey or maple will bring a wonderful taste to the carrots and its a fine accomplish to any Roatbeef.

Spinach with Pine Nuts and Raisins
Submitted by: Barbiel
1/4 cup dried seedless raisins
1 10-ounce bags whole-leaf spinach
1 1/2 tablespoons Olive oil
2 cloves garlic, crushed
2 1/2 tablespoons pine nuts
1 tablespoon butter
1 tablespoon Parmesan cheese
fresh ground pepper to taste (optiomal)
Soak raisins in water to cover for 20 minutes or until plump. Drain and pat dry. Wash and drain the spinach well. Tear leaves with your hands, roughly into thirds. Heat Olive oil over medium heat. Stir in garlic and sauté for 3 - 4 minutes. Do not burn. Add raisins and pine nuts, and cook for 4 more minutes. Swirl in butter. When melted, add spinach, stirring well to combine. Cook for another 2-4 minutes or until spinach has cooked down. Add pepper (if desired). Top with Parmesan. Serves: 2 - 3 as side dish.
Note: Accomplish any Baked Potato recipe your preference. Tastes very well with any fish recipe too. You may also try to serve as bread/toast dip or similar.

To submit your favorite recipes to be included in the Garden of Friendship Recipe Book, please email them to Barbiel
Background graphics made especially for the Recipes Committee of the Garden of Friendship by Valatine