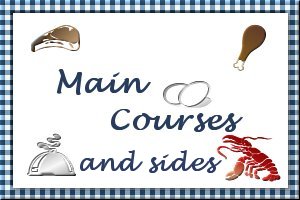 Salmon with Passionfruit Sauce
Submitted by: SueW

500 g salmon filets
1 teaspoon salt
1/2 teaspoon ground white pepper
1/2 cup Passionfruit juice
Passionfruit Sauce (recipe below)
toasted Passionfruit seeds for garnish (optional)
Season salmon with salt, pepper and 1/2 cup Passionfruit juice. Let it marinate for about one hour. Microwave for 7- 8 minutes at high. Remove from microwave, cover and let rest for 10 minutes. Serve with Passionfruit Sauce. Makes 2-3 servings.
Passionfruit Sauce
1 cup Passionfruit juice
1 cup water
1 teaspoon corn starch
1/2 cup sugar
Mix all ingredients together and microwave for 5-7 minutes at high, stirring two times during this procedure. Remove and serve over the prepared salmon.
Note: You may add some toasted (in oven) Passionfruit seeds to decorate before serving, if desired.

Fish Hamburger
Submitted by: SueW
1 kg fish filets (your preference)
1 whole egg
bread crumbs
2 garlic cloves, minced
1 tablespoon wheat flour
2 tablespoons parsley
pepper to taste
1 cup Olive oil
1/2 onion, chopped
1/2 l water
1 cup White wine
salt to taste
Cut fish in very smal pieces and season with salt and pepper. Add egg, brad crumbs and the garlic and mix very well (if needed, add wheat flour to the mixture to give more consistence). Shape small hamburger balls and roll them lightly in wheat flour. Heat Olive oil and fry the hamburgers slowly avoiding them to braeak. Reserve. Fry the onio for 5 minutes and add to the hamburgers. Add White wine and cook for 5 minutes in low temperature, then add water and cook for 10 minutes more. Season with salt again, if necessary. Serve hot with parsley. Serves 6.

Mussels, Clams and Shrimp in Spicy Broth
Submitted by: Merribuck
1/4 cup Olive oil
5 garlic cloves, minced
1 bay leaf
1 teaspoon dried crushed red pepper
1 cup dry White wine
1 (28-ounce) can diced tomatoes
salt to taste (optional)
24 small Littleneck clams (about 2 1/2 pounds total), scrubbed
24 mussels (about 1 1/2 pounds total), debearded
20 large shrimp (about 1 pound), peeled, deveined, butterflied
1/2 cup torn fresh basil leaves
warm crusty bread
Heat the oil in a heavy large pot over medium heat. Add the garlic, bay leaf, and crushed red pepper. Saute until the garlic is tender, about 1 minute. Add the wine and bring to a boil. Add the tomatoes. Bring to a simmer. Simmer until the tomatoes begin to break down and the flavors blend, about 5 minutes. Stir in the clams. Cover and cook for 5 minutes. Stir in the mussels. Cover and cook until the clams and mussels open, about 5 minutes longer. Using a tongs, transfer the opened shellfish to serving bowls (discard any shellfish that do not open). Add the shrimp and basil to the simmering tomato broth. Simmer until the shrimp are just cooked through, about 1 1/2 minutes. Divide the shrimp and tomato broth among the bowls. If necessary, season with salt. Serve with the warm bread.

To submit your favorite recipes to be included in the Garden of Friendship Recipe Book, please email them to Barbiel
Background graphics made especially for the Recipes Committee of the Garden of Friendship by Valatine