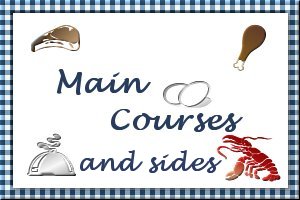 Crunchy Fish
Submitted by: Cheri
6 6-ounce fillets fresh Turbot or Orange Roughy fish
1 cup mayonnaise
1/4 cup grated Parmesan cheese
1 2.5-ounce container Hidden Valley Salad Crispins Italian Parmesan, crushed
Heat oven to 400 degrees. Spray a 9x13 baking pan with non stick cooking spray or line baking dish with foil for easy clean up. Arrange fish fillets in pan and spread mayonnaise on each fillet. Sprinkle each fillet evenly with Parmesan cheese and crushed Salad Crispins. Bake in oven for 15 minutes. Serve immediately. 6 servings.

Camarao a Bahiana
(Brazilian shrimp a la Bahiana - North Brazil speciality)
Submitted by: Barbiel
2 kgs shrimps (fresh or frozen)
4 cups sugar-free coconut milk
2 cups shrimp sauce
2 tablespoons tomato extract
parsley to decorate
Marinade:
2 medium onions, chopped
3 tomatoes (in dices)
garlic (optional)
oil, lemon juice (or vinegar)
If shrimps are frozen, first thaw them. Clean shrimps and fry them in some Olive oil. Add, still warm, to the marinade. Put in refrigerator for 12 hours. Then add all other ingredients and cook (marinade too) about 20 minutes. To be served warm with white rice and a very cold german Riesling (german White wine). Serves 6-8.
Note: Coconut milk is found in African grocery shops.

Salmon A La Provence

Submitted by: Barbiel
1,5 kg fresh or smoked salmon
juice from one lemon
Olive oil
salt and pepper to taste
Provence herbs (a mixture of different herbs) or something similar.
tomato and some parsley to decorate.
Spice the salmon (when it is smoked you won´t need too much salt) with salt, lemon juice, pepper and the herbs. Place it in a aluminium sheet with some olive oil. Do not close sheet. Put in 350°F oven for about 25-30 minutes. Remove sheet before serving! Decorate with tomatoes and parsley. Serve it with french baguette, green salad, baked potatoes and a cold white wine. Serves 6-8.
GUTEN APETIT!

To submit your favorite recipes to be included in the Garden of Friendship Recipe Book, please email them to Barbiel
Background graphics made especially for the Recipes Committee of the Garden of Friendship by Valatine