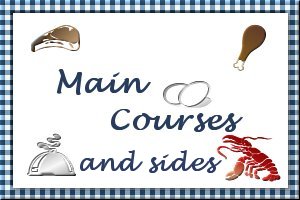 Broiled Trout Mediterranean
Submitted by: Luisa
6 trout fillets
2/3 cup olive oil
1/2 cup white wine
1/3 cup butter, melted
1 tablespoon oregano
1/3 cup fresh parsley, chopped
1 small onion, chopped
2 tablespoons lemon juice
4 cloves garlic, minced
1 teaspoon Worcestershire sauce
Spray a large baking dish with non-stick cooking spray. Combine remaining ingredients, except trout and mix well. Pour over trout and broil until golden brown and flaky. You may use another fish besides trout if you prefer; such as halibut, orange roughy or flounder .

Baked Salmon With Dill Garlic Beurre Blanc
Beurre blanc literally means "white butter"
Submitted by: Deelight
2 pounds salmon, fresh fillets
8 tablespoons butter, cold, cut into 16 pieces

1/2 cup white wine
1 teaspoon dill weed
1/2 teaspoon garlic, minced
Preheat the oven to 375 degrees. Bake the salmon for 12-15 minutes. The fish should be firm but not dry. Place the wine, dill and garlic in a small saucepan. Reduce on high heat until almost dry. Remove from the heat and quickly add all the butter while whisking briskly. When all the butter has been incorporated, allow to rest 10 minutes. Spoon over the hot salmon. Serves 4.

Grilled Salmon with Ginger orange mustard glaze
Submitted by: Sandi
1/4 cup fresh orange juice
1/4 cup tamari or soy sauce
1/4 cup cream sherry
1/4 cup Dijon mustard
2 tablespoons fresh ginger, peeled, grated
2 tablespoons honey
4 6-ounce salmon fillets about 1-inch thick
Green onions, cut into fans
Combine first 6 ingredients in a large zip-top plastic bag. Add salmon to bag; seal and marinate in the refrigerator 30 minutes. Remove salmon from bag, reserving marinade. Prepare grill or broiler by spraying with nonstick cooking spray. Cook 6 minutes each side or until fish flakes easily when tested with a fork; basting frequently with reserved marinade. Place remaining marinade in a saucepan; bring to a boil. Serve with salmon; garnish with green onion fans. Serves 4.

To submit your favorite recipes to be included in the Garden of Friendship Recipe Book, please email them to Barbiel
Background graphics made especially for the Recipes Committee of the Garden of Friendship by Valatine