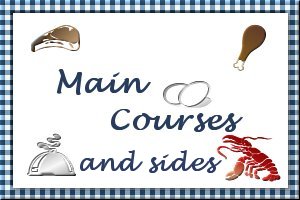 Shrimp Etouff'ee
Submitted by: Ashli
1 stick butter
1 large onion, chopped
4 celery ribs, chopped
3 green onions, chopped
1/2 cup fresh parsley, chopped
3 garlic cloves, minced
1 teaspoon poultry seasoning
1/4 teaspoon crushed red peppers
1/4 teaspoon cayenne
3 tablespoons flour
3 cups chicken broth
1 tablespoon lemon juice
2 pounds large shrimp ( peeled and deveined ).
Salt
Rice

In a large nonstick skillet, melt butter over medium heat. Add onion and celery. Cook, stirring occasionally until tender, about 5 minutes. Add green onions, parsley, garlic, poultry seasoning, crushed red pepper, and cayenne. Cook for about 2 minutes. Sprinkle flour over mixture and stir well. Stir in broth and lemon juice, bring to a boil. Reduce heat to low and simmer for 10 minutes. Add shrimp and cook until pink and firm, about 5 minutes. Salt to taste. Serve hot over rice. Makes 6 servings.

Prawns with Garlic
Submitted by: KatjaGirl
10-12 ounces peeled raw small prawns
Coarse salt
5 ounces extra virgin olive oil
6 large garlic cloves, thinly sliced
2 dried red chillies
Chopped parsley or coriander to serve
Put the prawns on a double layer of kitchen pepper and pat dry. Season well with salt & pepper. Heat the oil in a small frying pan then add the garlic and chillies and cook for a few seconds. When the garlic is beginning to colour add the prawns and stir. Continue cooking over a high heat for 2-3 minutes, until the prawns are pink. Remove from the heat, sprinkle over the herbs and serve at one with good crusty bread to mop up the oil.
Serves 4-6.

Coalfish with Thyme and Tomatoes
Submitted by: Wolfmamma
1 2-pound coalfish
3 cups of white wine
1 bunch of thyme
6 tomatoes
1 lemon
15 small white onions
3 ounces olive oil
Salt, pepper
Scale the fish and cut into filets. Peel the white onions. Bring a casserole of 2 cups of water and the 3 cups of white wine to a boil. Put in the thyme, pour in the olive oil and let to cook on a low fire. Salt, pepper and incorporate the onions. Continue to cook. Place the coalfish in your skillet and pour over the cooled wine liquid without the thyme branches. Peel and seed the tomatoes and cut into small pieces. Pour this over the coalfish Season again with salt and pepper add the lemon juice, and cook for another 5 minutes on a low fire. Dress your serving platter and serve.

To submit your favorite recipes to be included in the Garden of Friendship Recipe Book, please email them to Barbiel
Background graphics made especially for the Recipes Committee of the Garden of Friendship by Valatine