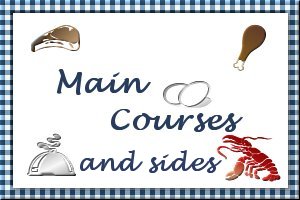 Deviled Crab Casserole
Submitted by: Lady Lynda
1 pound lump crabmeat
1 cup saltine crackers crushed
1 large celery stalk diced
1 egg hard boiled and diced
1 cup mayonnaise
2 tablespoons Worcestershire sauce
1 teaspoon Old Bay Seasoning
1 teaspoon dry mustard
1/2 teaspoon curry powder
lemon wedges
Combine all ingredients except lemon wedges in a large bowl. Place mixture in a lightly greased casserole dish. Bake for 30-35 minutes at 375°F. Squeeze lemon over casserole just before serving. Serves 4.

Barbecued Shrimp with Peanut Sauce
Submitted by: Lady Lynda
4 pounds large shrimp, peeled and deveined
1 bottle 8-oz. Italian dressing
1/4 cup lime juice
1 tablespoon sesame oil
2 cloves garlic, minced
1 tablespoon fresh ginger, grated
1 tablespoon Worcestershire sauce
salt and pepper to taste
1 pound fettuccini, cooked
Peanut Sauce (recipe below)
Combine shrimp and remaining ingredients in a sealed bag and refrigerate for several hours. Remove shrimp from marinade and grill over medium-hot coals for several minutes or until shrimp turns pink. Remove from grill and serve over hot fettuccini and Peanut Sauce. Serves 4-6.
Peanut Sauce:
1/2 cup chicken broth
1/3 cup coconut milk
1/3 cup creamy peanut butter
1 teaspoon fresh ginger, grated
2 tablespoons lime juice
1 tablespoon fish sauce (or substitute with soy sauce)
salt and pepper to taste
Combine all ingredients in a blender or food processor until smooth.

Mussels in White Wine Sauce
Submitted by: Barbiel
1/4 sack mussels (about 4 lbs)
2 shallots, diced fine
2 teaspoon parsley, chopped
1/3 cup butter
3 tablespoons bread crumbs, seasoned
3/4 cup Rhine Wine, or Chablis if you must
1 loaf Sourdough New Orleans French bread, sliced
2 cups Court Bouillon (recipe below)
Court Bouillon (Sauce)
1 cup white wine
1 carrot, sliced
1 onion, sliced
2 sprigs parsley
1 sprig thyme (or 1/2 teaspoon dry thyme)
1/2 bay leaf
6 peppercorns
1 teaspoon salt
2 cups water
Clean mussels. Put the clams in the Court Bouillon, and steam them until they open and remove them from the heat. Strain mussel liquor and save, remove the little muscles from the shells (make sure you remove the beards). Put the wine in a skillet, simmer the shallots until tender, add 3/4 cup of the Court Bouillon Sauce and bring to a boil. Blow out the fire and let it set. Add the butter, bread crumbs, mix them up good, add the mussels, when they is heated up good, spoon over the French Bread. Sprinkle with the chopped parsley. Serves 4-6.
Note: Do not over cook mussels (they will be like rubber).

To submit your favorite recipes to be included in the Garden of Friendship Recipe Book, please email them to Barbiel
Background graphics made especially for the Recipes Committee of the Garden of Friendship by Valatine