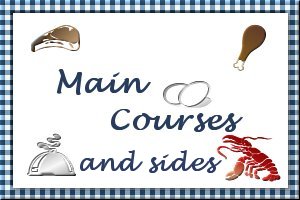 Shrimp in Yuca Cream
(Bobó de Camarão - a speciality from North Brazil)
Submitted by: Barbiel
4 lbs medium size shrimp
1 1/2 lb yuca or manioc root
2 cups onion, chopped
3 cloves garlic, chopped
1 cup olive oil
8 medium tomatoes, peeled and seeded
1 cup cilantro, chopped
juice from one lemon
2 cups unsweetened coconut milk
1/2 cup red palm oil
6 tablespoons ginger, grated
4 red bell peppers, chopped
salt and pepper to taste
fresh cilantro to garnish (optional)
Peel and cut the manioc and put in a pan with cold water and salt. Cook until tender, drain and reserve both the cooked manioc and the liquid. Discard any manioc fiber. Using a fork mash the manioc while still hot, using some of the liquid to help in the process. Do not use a blender or food processor. Peel and devein the shrimp, reserve the shells and make a broth to be used in the cream. Sauté the onion and garlic in the olive oil until wilted. Add the pepper, lemon juice, 1/2 of the chopped cilantro and the tomatoes, stirring well. Add the shrimp and the pureed manioc. Check the amount of liquid and add more shrimp broth to thin the mixture, if necessary. Add the coconut milk, the remaining cilantro and the palm oil. Check for salt and pepper. Garnish with fresh cilantro (optional). Serve hot over rice. Makes 4-6 servings.
Note: Red palm oil (or azeite de dendê), manioc or yuca roots and unsweetened coconut milk can be found at any African markets.

Australian Fish
Submitted by: Wolfmama
1/2 pound fresh mushrooms
2 tablespoons butter
1 tablespoon oil
1/2 cup parmesan, cheddar or cheshire cheese, freshly grated
1 1/2 pounds fillet of sole (or any white fish)
1/4 teaspoon salt
1/4 teaspoon pepper
4 tablespoons green pepper, chopped
6 tablespoons white wine
2 teaspoons fresh lemon juice
1 tablespoon fresh parsley, chopped
Melt butter in skillet over low heat. Add mushrooms and saute over medium heat until tender. Rub oil over shallow 4-quart baking dish and sprinkle with grated cheese. Place fish on cheese. Sprinkle fish with salt and pepper. Add onions and top with mushrooms. Pour wine over fillets. Bake at 450°F for 20 minutes or until fish flakes. Sprinkle with lemon juice and parsley. Serves 4.

Fish Mulligan
Submitted by: Wolfmama
6 diced bacon strips
3 mediuem onions, sliced
1 1/2 pounds fresh haddock, cut in 2 1/2 inch pieces
1 1/2 pounds peeled potatoes, cut in 3/4 inch cubes
3 large carrots, cut in 3/4 inch cubes
1/2 teaspoon celery seeds
1/4 cup diced green pepper
2 teaspoons salt (or salt to taste)
1/2 teaspoon pepper
3 cups boiling water
1 (28 ounces) can crushed tomatoes (3 1/2 cup)
2 tablespoons snipped parsley
In deep kettle or Dutch oven, saute bacon until lightly browned; remove bacon, set aside. In same kettle, saute onions until tender. Add fish, potatoes, celery seeds, carrots, green peppers, salt, pepper, chicken and/or any other seafood and boiling water. Simmer, covered, until vegetables are tender, about 25 minutes. Add tomatoes; heat. Garnish with parsley and crumbled bacon bits. Serves 6.
Note: You can also add chicken breasts (skinned, boned, cubed), shrimp, clams, oysters, etc). Recipe doubled nicely (use 1 pound bacon).

To submit your favorite recipes to be included in the Garden of Friendship Recipe Book, please email them to Barbiel
Background graphics made especially for the Recipes Committee of the Garden of Friendship by Valatine