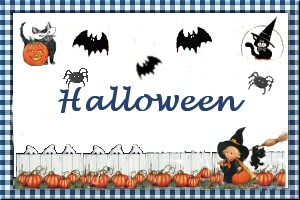 Black Halloween Punch
Submitted by: Lady Lynda
1 (.13 ounce) envelope unsweetened grape soft drink mix
1 (.13 ounce) envelope unsweetened orange soft drink mix
2 cups white sugar
3 quarts cold water
1 liter Ginger Ale
To make a frozen hand, wash a disposable glove, fill with water, seal with a rubber band and freeze until hard. Stir together grape soft drink mix, orange soft drink mix, sugar and water until solids are dissolved. Combine with chilled ginger ale just before serving. Dip the frozen hand briefly in warm water, then peel off the glove. Float the prepared hand in the punch bowl for a ghostly effect. Serves 32.

Halloween Sparkle Punch
Submitted by: Lady Lynda
2/3 cup Orange Flavor Drink Mix
1 quart cold water
2 cups cold Ginger Ale
1 pint blackberry sherbet
Place drink mix in punch bowl or large plastic or glass pitcher. Add water; stir until drink mix is dissolved. Refrigerate several hours or until chilled. Stir in ginger ale when ready to serve. Place 1 small scoop of sherbet in each punch cup. Pour drink mix over sherbet. Serves 16.

Witch's Brew and Blood Drops
Submitted by: Merribuck
green punch
Mountain Dew
Maraschino cherries
crushed ice
2" plastic spiders
(to garnish)
Drain the Maraschino cherries well and freeze. Freeze large chunks of ice with the 2" plastic spiders inside. Mix Mountain Dew and green punch in a
big punch bowl. Add the crushed ice, frozen cherries and frozen chunks containing the spiders. Be careful not to serve up the spiders in children's drinks.

To submit your favorite recipes to be included in the Garden of Friendship Recipe Book, please email them to Barbiel
Background graphics made especially for the Recipes Committee of the Garden of Friendship by Valatine