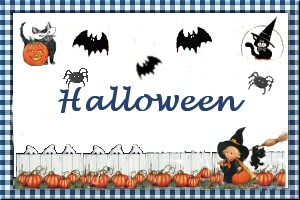 Bobbing Apple Punch
Submitted by: SueW
1 1/2 cups orange juice
4 cups Apple Cider
1 cup pineapple juice
2 tablespoons sugar
4 cups Ginger Ale, chilled
6 small red apples
1 orange, sliced
In punch bowl mix orange juice, Apple Cider, pineapple juice and sugar. Chill for a couple hours. Before serving add Ginger Ale, apples, orange slices and ice cubes. Serves 6-8.

Hot Cocoa with Marshmallow Spooks
Submitted by: Ginadapooh
6 to 8 large marshmallows
5 tablespoons unsweetened Dutch-process cocoa
3 tablespoons sugar
1/3 cup water
4 cups milk
1 cup half-and-half
Place 1 marshmallow horizontally on a work surface. Using a rolling pin or soup can, flatten the marshmallow by rolling back and forth over it. Using Halloween-themed mini cookie cutters, cut into desired shapes. In a saucepan over medium heat, combine the cocoa, sugar, and water. Bring slowly to a boil, stirring, until the sugar and cocoa dissolve, about 2 minutes. Add the milk and the half-and-half and continue to cook, stirring, until bubbles appear along the edges of the pan, about 5 minutes; do not allow to boil. Pour into mugs and garnish with the marshmallow spooks. Serve immediately while the spooks hold their shapes.

Green Slime Punch
Submitted by: Ginadapooh
2 (1.5 liter) bottles Ginger Ale soda
1 gallon green sherbet ice cream
1 block dry ice wrapped in cheesecloth
Put green sherbet ice cream and the block of dry ice wrapped in cheesecloth in a large bowl. Pour Ginger Ale on top creating smoke rising from the punch. Stir until green sherbet ice cream melts and serve.

To submit your favorite recipes to be included in the Garden of Friendship Recipe Book, please email them to Barbiel
Background graphics made especially for the Recipes Committee of the Garden of Friendship by Valatine