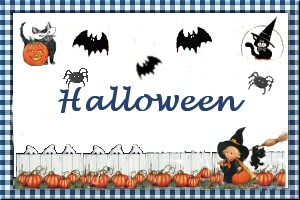 Double Delicious Halloween Bars
Submitted by: LisaW
1/2 cup margarine or butter
1 1/2 cups Graham cracker crumbs
1 (14 oz.) can sweetened condensed milk
1 (12 oz.) package milk chocolate chips
1 cup peanut butter chips
Preheat oven to 350°F (325°F for glass dish). In 13 x 9 inch baking pan, melt margarine in oven. Sprinkle crumbs evenly over margarine; pour sweetened condensed milk evenly over crumbs. Top with chips, press down firmly. Bake 25 to 30 minutes or until lightly browned. Cool. Cut into bars.

Litterbox Cookies
Submitted by: LisaW
1/2 cup honey
2/3 cup (1 and 1/3 stick) butter or margarine
1 egg
1 teaspoon vanilla or peppermint extract
2 cups whole wheat flour
1/3 cup cocoa powder
Grape-nuts(tm) cereal
one Gingerbread recipe (below)
Gingerbread:
1/4 cup honey
1/4 cup molasses
2/3 cup (1 and 1/3 stick) butter or margerine
1 egg
7 cups whole wheat flour
Spices: ginger, cinnamon, cloves to taste (maybe 1/2 teaspoon grape-nuts)
Mix-ins: coconut chocolate chips, butterscotch chips peanut butter chips.
Microwave the honey till it bubbles (about 1 minute). Add the butter, and the molasses, if any. Add the egg, mix well, then mix in all the other stuff. Add mix-ins of your choice to some or all of the batter. Chill 1 hour in the freezer or several hours in the fridge. Roll dough logs of random length and the diameter of cat poops. Roll logs in grape- nuts and bake at 350°F till done (10 to 15 minutes). Serve in a disposable cat litter box on a bed of grapenuts, with a cat litter scoop.
Note: You get lovely effects by decorating the box and scoop with melted chocolate or pudding.
This recipe worked especially well at the halloween party where the table was already decorated with plastic flies.

Cool Whip Grave Yard
Submitted by: LisaW
Crust:
2 cups chocolate wafer cookie crumbs
1/4 cup granulated sugar
1 stick margarine, melted
Decorations:
1/4 cup chocolate wafer cookie crumbs
7 rectangular shaped sandwich cookies
7 oval shaped sandwich cookies
decorator icing brown, green, orange
white candy corn candy pumpkins
Filling:
8 oz pkg fat-free cream cheese
12 oz tub Cool Whip Lite® topping, thawed
2 cups water, boiling
2-4 serving package orange gelatin
1/2 cup water
cold ice cubes

Preheat oven at 350°F. Prepare a 9 x 13 x 2" pan with cooking spray and flour. To prepare crust, combine 2 cups cookie crumbs, 1/4 cup sugar, and margarine in a small mixing bowl. Press firmly into prepared pan. Bake for 10 minutes and then chill. To prepare filling, combine cream cheese, remaining sugar, and 1/2 cup Cool Whip in a mixing bowl. In another mixing bowl, combine boiling water into gelatin until completely dissolved. Mix cold water and ice cubes together to make 1 1/2 cups. Stir ice water into gelatin until thickened. Remove any remaining ice cubes. Spoon gelatin over cream cheese layer. Refrigerate 3 hours or until firm. Spread remaining Cool Whip over gelatin layer. Sprinkle with remaining cookie crumbs. Decorate as a "grave yard" by poking sandwich cookies on end into dessert. Decorate the cookies as tombstones with the decorator icing. Scatter candy and pumpkins around the surface.

To submit your favorite recipes to be included in the Garden of Friendship Recipe Book, please email them to Barbiel
Background graphics made especially for the Recipes Committee of the Garden of Friendship by Valatine