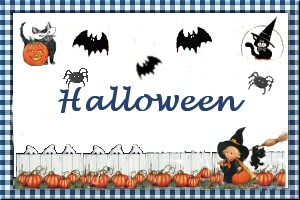 Cobweb Cookies
Submitted by: AngelBreath
3/4 cup all purpose flour
1/2 cup sugar
1/4 cup cooking oil
1/4 cup milk
dash of salt
1/2 teaspoon Vanilla
2 large eggs
powdered sugar
Beat together the flour, sugar, vegetable oil, milk, Vanilla salt and eggs until smooth. Pour batter into a plastic squeeze bottle with a narrow opening. Heat a large (preferably non-stick) skillet over medium heat until hot; grease lightly. Working quickly, squeeze batter to form 4 straight, thin lines which intersect at a common center point to form a "star" shape. To form cobweb, squeeze thin streams of batter to connect lines. Cook 30-60 seconds or until bottom is golden brown; carefully turn. Cook until golden brown; remove from skillet. Cool. Sprinkle with powdered sugar. Makes about 2-1/2 dozen (4-5") cobweb cookies.

Great Ghost Pumpkin Cookies
Submitted by: AngelBreath
2 cups flour
1 cup quick oats, uncooked
1 teaspoon baking soda
1 teaspoon cinnamon
1/2 teaspoon salt
1 cup butter or margarine, softened
1 cup brown sugar, packed
1 cup granulated sugar
1 egg, slightly beaten
1 teaspoon Vanilla
1 cup Libby's solid-pack pumpkin
1 cup semi-sweet morsels
IPreheat oven to 350°F. Combine flour, oats, baking soda, cinnamon and salt; set aside. Cream butter; gradually add sugars, beating until light and fluffy. Add egg and Vanilla. Mix. Alternate additions of dry ingredients and pumpkin, mixing well after each addition. Stir in morsels. For each cookie, drop 1/4 cup dough onto lightly greased cookie sheet; spread dough into a ghost shape using a thin metal spatula. Or make a quick ghost pattern of heavy paper. Make 2 or three poses for realism. Bake 20-25 minutes, til cookies are firm and lightly browned.Remove from cookie sheets. Cool on racks. Spread with white royal icing. Trim brown face features with tube-icing.

Title
Submitted by:
Ingredients
Ingredients
Instructions

To submit your favorite recipes to be included in the Garden of Friendship Recipe Book, please email them to Barbiel
Background graphics made especially for the Recipes Committee of the Garden of Friendship by Valatine