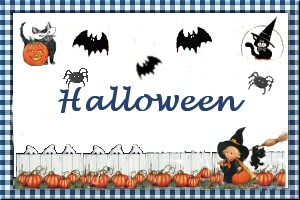 Halloween Pizza
Submitted by: Cheri
1 pound frozen bread dough, thawed
1 cup shredded mozzarella cheese
1 tablespoon chopped onion
1 teaspoon dried oregano leaves
2 cup shredded cheddar cheese
green pepper strips
2 teaspoon vegetable oil
1 15-ounce can tomato sauce
1 teaspoon salt
1/2 teaspoon garlic powder
4 ounces sliced pepperoni or salami
ripe olives, sliced
Heat oven to 325°F. Divide thawed dough in half. Roll and stretch each half into 10 - 12 inch circles on lightly floured baking sheet. Turn up edges 1/2 inch and pinch or pleat. Brush circles with oil: sprinkle with mozzerella cheese. Mix tomato sauce, onion, salt, oregano, and garlic powder, pour on circles of dough. Top with cheddar cheese. Decorate wtih overlapping pepperoni slices around edge of pizzas, olive slices for eyes, green pepper strips for eyebrows, noses and smiles. Bake until crust is brown, 20 - 25 minutes. Makes 2 pizzas.

Gnarled Witches Fingers
Submitted by: Richelle
1 tablespoon vegetable oil
4 boneless chicken breasts
1 cup flour
1 egg beaten
1 cup bread crumbs
pitted black olives halved lengthwise
pepper to taste (optional)
shredded lettuce
Grease cookie sheet with oil, set aside. Carefully cut chicken breasts part way to create five fingers (the uncut part will be the palm of the hand). Dust in flour, dip in beaten egg, pepper and then bread crumbs. Broil 5 minutes on each side till golden brown and cooked through. Trim the finger tips with the halved black olives and serve on lettuce.
Note: You can use shake-n-bake instead of the flour and bread crumbs.

Halloween Witches Chili
Submitted by: Richelle
1 1/4 pounds ground goblin gizzards (ground beef 15% fat)
1 medium eye of cyclops (onion)
1 15-ounce can soft shelled beetles (kidney beans)
1 28-ounce can blood of bat (V-8 juice)
1/8 teaspoon pureed wasp (prepared mustard)
1/4 teaspoon common dried weed (oregano)
1 dash redtailed hawk toenails (crushed red pepper)
2 teaspoons ground sumac blossom (chili powder)
1 teaspoon hemlock (honey or sugar)
1/2 cup fresh grubs (sliced celery)
1 tablespoon eye of newt (pearled barley)
1 tablespoon dried maggots (uncooked rice)
water from a stagnant pond (tap water)
Brown the gizzards add chopped eye of cyclops and simmer until the pieces of eye become translucent. Add blood of bat and soft shelled beetles, bring to a slow bubbling boil. Add the common weed, maggots, toenails, sumac, grubs, hemlock, eye of newt and the pureed wasp. Say the magic words and serve. Sure to put a smile on the face of all of your ghosts and goblins.

To submit your favorite recipes to be included in the Garden of Friendship Recipe Book, please email them to Barbiel
Background graphics made especially for the Recipes Committee of the Garden of Friendship by Valatine