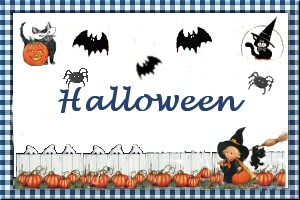 Spider-Web Soup
Submitted by: Barbiel
canned or homemade tomato soup
1/2 cup Sour cream
1 tablespoon milk
green food coloring
plastic sandwich bag
toothpick
Start with canned or homemade tomato soup. Place soup into bowls and make a mixture the sour cream, milk and enough green food coloring to turn the mix a pale green. Pour the mixture into a plastic sandwich or freezer bag. Cut a very small piece out of one of the corners of the bag, and starting from the side of the bowl, swirl the sour-cream mixture inward to the center of the bowl, creating a spiral. Using a toothpick and starting in the center of the bowl, move straight to the edge of the bowl and repeat several times to create a spider-web design.

Against-Vampire-Soup
Submitted by: Vadi
1/4 cup Olive oil
4 garlic cloves, finely minced
3 cups French bread, coarsely chopped
2 quarts beef stock
1 teaspoon paprika
1 teaspoon salt
1/2 teaspoon black pepper
3 egg yolks, beaten
1 teaspoon cilantro, finely chopped
In a soup kettle, place the olive oil and saut\xe9 the garlic until lightly yellow. Add the bread and brown lightly. Add beef stock, paprika, salt, black pepper and bring to a boil. Simmer for 30 minutes. Whisk soup until the bread crumbs are smooth. Add the beaten egg yolks a little at a time. Whisk well and let the soup simmer. Adjust the seasonings. Garnish with cilantro. Serves 6.

Devil's Lamb
Submitted by: Vadi
1 pound ground lamb
1 medium onion, chopped
1 clove garlic, minced
1 cup long-grain rice
1/4 cup orzo
1/4 cup pine nuts
1 can beef broth, 13 3/4 ounce
1/4 cup chopped parsley
1/2 teaspoon salt
1/4 teaspoon allspice
1/4 teaspoon pepper
1/4 cup grated Parmesan cheese
In a large skillet, cook ground lamb, onion, and garlic over medium-high heat, stirring often to bread up lumps of meat, until lamb loses its pink color, about 5 minutes. Stir in rice, orzo, and pine nuts. Cook, stirring, until rice turns opaque, about 2 minutes. Stir in beef broth, parsley, salt, allspice, pepper, and 3/4 cup water. Bring to a boil, reduce heat to low, cover, and simmer until rice is tender and liquid is absorbed, about 20 minutes. Sprinkle with Parmesan cheese over top. Makes 4 servings.



Halloween Hunt 2004
Congratulations!!! You have survived the vampires.. and no... you are not dead.. you are simply "under my tomb" (hehehe)




To submit your favorite recipes to be included in the Garden of Friendship Recipe Book, please email them to Barbiel
Background graphics made especially for the Recipes Committee of the Garden of Friendship by Valatine