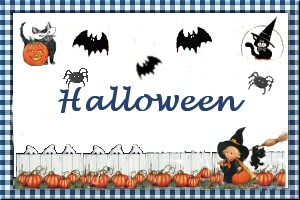 Witche's Supper
Submitted by: Vadi
2/3 cup red lentils
1 inch piece ginger, grated
4 tablespoons oil
1 tablespoon ground coriander
4 medium green bell peppers
1 1/4 cups water
1 teaspoon cumin seeds
salt and pepper to taste
2 onions, chopped
2 tablespoons chopped cilantro
2 green chillies
Rinse lentils and soak for 30 minutes. Heat half oil in skillet. Add peppers and cook for 3 to 5 minutes till golden brown. Drain and cool. Add remaining oil to pan. Cook cumin till they begin to pop. Add onions and chilies and cook for 8 minutes. Stir in ginger and coriander. Drain lentils add to the pan with water. Stir well and cover. Cook for 15 to 20 minutes until the liquid has evaporated. Stir in salt and pepper. Add cilantro. Cut tops off peppers and remove seeds. Stuff with the lentils and replace the tops. Stand in a baking dish. Bake at 350°F for 15 minutes. Yield: 4 servings.

Devilled Eyeballs
Submitted by: AngelBreath
12 eggs, hard-cooked, cooled and peeled
24 green olives stuffed with pimientos
Miracle Whip
mustard
Half eggs lenghtwise, take out yolks. Mix yolks, some Miracle Whip and mustard until you have a smooth paste. Spoon this mixture back into the eggs. Add one olive to the center of the mixture in the egg.

Edible Fingers
Submitted by: AngelBreath
5 hot dogs
1 package refrigerated biscuit dough
10 sliced almonds
ketchup (optional)
Preheat oven to the tenperature on the biscuit package. Separate biscuit dough into individual pieces. Roll and stretch a biscuit until flat. Cut each hot dog in half. Lay a half of hot dog in the center of a flattened biscuit and roll dough around the hot dog until it is enclosed in the biscuit. Place wrapped hot dot on a cookie sheet. Repeat the above steps until you have 10 wrapped hot dogs,aka "fingers". Place a sliced almond at one end of each wrapped hot dog so it looks like a fingernail. You can also use a toothpick to make knuckle lines. B your fingers for about 10 minutes or until golden brown. Serve warm with some ketchup (blood) at the severed end (optional).

To submit your favorite recipes to be included in the Garden of Friendship Recipe Book, please email them to Barbiel
Background graphics made especially for the Recipes Committee of the Garden of Friendship by Valatine