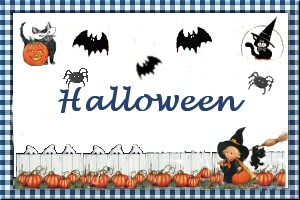 Envy Green

Brussels

Sprout Eyeballs


Submitted by: KatjaGirl

2 pounds brussels sprouts

1 tablespoon Olive oil
1 cup chopped tomatoes

2 tablespoons Balsamic vinegar
salt to taste
pepper to taste

Trim off and discard stem ends from brussels sprouts; rinse sprouts. In a 10- to 12-inch frying pan, combine olive oil and 3/4 cup water; bring to a boil over high heat. Add sprouts, cover, reduce heat to medium, and shake pan occasionally until sprouts are tender when pierced, 8 to 14 minutes. Uncover and stir in tomatoes and vinegar. Pour into a bowl and season with salt and pepper. Serves 8.

Roast Chickens

w

ith Vampireproof Garlic

Garland


Submitted by: KatjaGirl

3 tablespoons Olive oil

2 tablespoons lemon juice

2 teaspoons dried thyme

1 teaspoon fresh rosemary leaves or crumbled dried rosemary

1 teaspoon chopped fresh sage leaves or dried rubbed sage

each 1/2 teaspoon pepper and rinsed salt

2 chickens (about 4 lb. each)

8 heads garlic (each 2 in. wide) rosemary sprigs

In a small bowl, mix 2 tablespoons olive oil, lemon juice, thyme, rosemary leaves, sage and 1/2 teaspoon pepper. Rinse chickens and pat dry. Pull off and discard lumps of fat. Rub olive oil mixture all over chickens and set birds breast up and at least 1 inch apart on a rack in a 12- by 17-inch roasting pan. Rub remaining 1 tablespoon olive oil all over garlic. Place garlic heads on rack beside chickens. Roast in a 425°F oven until garlic is soft when pressed, about 1 hour, and chickens are well browned and meat is no longer pink at thigh bone (cut to test), 1 to 11/4 hours; if garlic is done before chickens, transfer garlic to a dish and keep warm. Tip juices out of body cavities into roasting pan. Put chickens on a large platter, surround with garlic heads, and garnish with rosemary sprigs. Keeping chickens warm, let rest 5 to 10 minutes. Carve chickens. Separate garlic cloves and squeeze garlic from peels to eat with chicken. Season with slat and pepper. Makes 8 servings.

Notes: Eat the roast garlic with the chicken, or spread onto broomstick breadsticks.

Mashed Potato
Submitted by: LisaW

2 pounds potatoes, peeled and cut into 1-inch chunks (about 5 cups)
5/8 cup hot milk
2 tablespoons butter
1/2 teaspoon salt

7/8 teaspoon black pepper
1/2 cup grated sharp cheddar cheese (optional)
2 tablespoons freshly chopped parsley or dill (optional)
1/2 cup small black olives

Place potatoes in large pot and add enough water to cover. Bring to boil and cook 13 to 15 minutes, or until very tender. Drain in colander. Return cooked potatoes to pot and stir over medium heat about 1 minute, until excess water has evaporated. Remove from heat and, using potato masher, mash in hot milk, butter, salt and pepper. Beat with wooden spoon until potatoes are smooth and creamy. Stir in optional add-ins if desired. Create stencils of ghost shapes out of heavy-duty aluminum foil. Place stencils on cookie sheet or microwaveable serving dish. Working with 1/2 to 1 cup mashed potatoes per ghost, use rubber spatula to fill in stencil's ghost shapes. Lift stencils off finished ghosts. Using small paring knife, slice olives to create circular shapes to be used for eyes and mouth. To warm ghosts, microwave on high (100% power) 3 to 5 minutes on microwavable dish. Makes 4 to 6 servings.
Note: If using an oven, place potatoes on cookie sheet and reheat at 350°F, loosely covered with foil, 10 to 15 minutes or until heated through.

To submit your favorite recipes to be included in the Garden of Friendship Recipe Book, please email them to Barbiel
Background graphics made especially for the Recipes Committee of the Garden of Friendship by Valatine