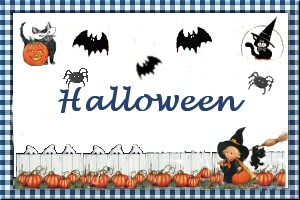 Tongues on Toast
Submitted by: LisaW
8 white bread slices
8 Bologna slices
Mustard
(or Mayonnaise, if desired)
With clean scissors, cut each slice of bread into a closed mouth shape. Then, with a dull knife, cut an opening between the upper and lower lips. Cut the Bologna with scissors into thin, tonguelike strips. Place the tongues between the bread lips so that the tongues hang out of the mouths. Spread mustard (Mayonnaise) on the bread and toast lightly in a toaster oven or under the broiler until the bread is golden brown. Arrange on a serving platter. Serves 4.

Brains on the Half Skull
Submitted by: LisaW
2 medium potatoes
8 oz. thin spaghetti
14 oz. spaghetti sauce
Preheat the oven to 400°F. Wash the potatoes and cut them in half crosswise. Place the potatoes cut side up on a baking pan and bake for 40 minutes. While the potatoes bake, prepare the spaghetti in a medium-sized pot according to the directions on the package. Then carefully drain the cooked spaghetti in a colander over the sink. A few minutes before the potatoes are ready, begin to heat the spaghetti sauce (blood) in a small pot. Remove the potatoes from the oven. Then scoop out the insides of the potatoes. You won't need the insides for this recipe, the empty shells will serve as the skulls. When the sauce begins to boil, remove it from the heat and combine it with the cooked spaghetti to make brains. Put a scoop of bloody brains in each skull. Makes 4 servings.

Toxic Tomatoes
Submitted by: LisaW
6 medium tomatoes
1/2 avocado, peeled, pitted and chopped
4 oz. Swiss cheese, grated
6 to 10 fresh basil leaves, chopped
(or 1 tablespoon dried basil)
1/4 teaspoon dried oregano
Wash the tomatoes and cut them in half crosswise. Place the halves (open side up) on a cookie sheet. In a small bowl, mash together the avocado (sludge), grated Swiss cheese (pus), and basil (poisonous plant matter). Spoon the mixture on top of the tomatoes and sprinkle with oregano (fly wings). Broil the tomatoes for 5 minutes, or until pus begins to ooze. Carefully remove the tomatoes from the broiler and serve hot, or allow to cool slightly and eat them with your hands (wearing plastic gloves, of course - to keep from being contaminated!). Serves 6.

To submit your favorite recipes to be included in the Garden of Friendship Recipe Book, please email them to Barbiel
Background graphics made especially for the Recipes Committee of the Garden of Friendship by Valatine