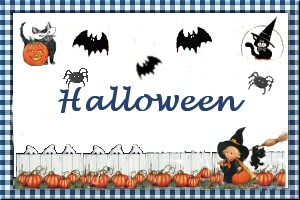 Bloody Finger Sandwiches
Submitted by: Merribuck
5 hot dogs, cut in half across the middle
1 roll of refrigerator bisquits
Ketchup
small amount of yellow-colored cheese spread.
Cut the hotdogs across the middle... wrap the end of the hot dog in bisquit dough so that the round end sticks out. Dip the buisquit end into ketchup. Bake about 20 minutes at 350°F or until the buisquit is done.... Cool... Cut a tiny slice off the end of the hot dog where a fingernail would be. Fill that slice with a very small amount of cheese .... voila!! Bloody finger sandwiches... (looks like a dead finger sticking out of a buisquit). Serves 5.

Rats in Blood
Submitted by: Merribuck
2 lbs hamburger
1 cup oatmeal
1 egg
sweet basil
1/4 cup Barbeque sauce
salt to taste
whole green onions
diced red bell pepper
summer sausage slices
tomato sauce
Mix first 5 ingredients. Season with salt. On baking sheet form into 4 football-shapes. Cut green onion so that only one tail remains. Insert into one end of each loaf. Use diced bell pepper to make eyes, and nose. Fringe two small (2") lengths of green onion for whiskers. Bake at 350°F for 1/2 hour. Just before serving, pour tomato sauce onto a platter, sit a rat on the platter and microwave to heat.

Muddy Worms
Submitted by: Merribuck
spaghetti
1/2 cup creamy peanut butter
1/3 cup hot water
1/3 cup heavy cream
1 tablespoon Soy sauce
1 teaspoon Sesame oil
1 clove garlic (crushed)
dash of Tobasco (optional)
Break spaghetti into 6 - 8 inch lengths. Boil until it is very done. Drain and set aside. In a small bowl, mix peanut butter with hot water - stir till smooth. Add the rest of the ingredients. Put spaghetti into a bowl and add peanut butter sauce.

To submit your favorite recipes to be included in the Garden of Friendship Recipe Book, please email them to Barbiel
Background graphics made especially for the Recipes Committee of the Garden of Friendship by Valatine