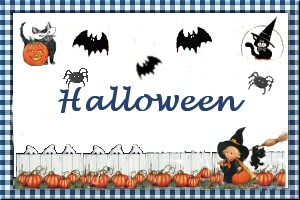 Witch's Eyes
Submitted by: Merribuck
hard boiled eggs
green food dye
Mayonaise
salt to taste
pitted whole black olives
red food dye
Cut eggs in half long-wise and scoop out yolks. In a seperate bowl, mix yolks with mayonnaise until creamy. Add salt to taste. Add green dye until the yolks are a nice dark green. Fill the egg whites with the green yolk mixture. Slice olives to make a narrow slit and place in the middle of the green yolks to make a cat-like pupil. With red food dye and a very fine paint brush, paint red streaks from the outer edge, inward to simulate a boodshot look.

Bread and Barf
Submitted by: Merribuck
French bread (broken in chunks)
1 1/2 cups Velvetta cheese
1/2 cup Chunky salsa
1 single serving can whole kernel corn
green onion
carrot finely diced
Tear bread in chunks - cover and set aside. Microwave the cheese until it is melted (about 1 minute) and stir until smooth. Drain the corn and add to the cheese. Slice the green onion, and add the onion and carrots to the cheese mix. Serve with the bread - using bread to dip into the "barf".

Monster Toes
Submitted by: Cricket
cocktail Wieners
6-inch tortillas
Ketchup or Mustard
toothpicks
Heat the oven to 350°F. Cut a wedge into the end of each cocktail wiener to make a toenail. Cut the tortillas into strips about 4 inches long and 3/4 inch wide. Discard the ends. Soften the strips in the microwave between damp paper towels for 10 to 30 seconds. Roll each wiener in a tortilla strip and secure with a toothpick. Bake for 7 to 8 minutes. Remove them from the oven, then fill the toenail with Ketchup or Mustard.

To submit your favorite recipes to be included in the Garden of Friendship Recipe Book, please email them to Barbiel
Background graphics made especially for the Recipes Committee of the Garden of Friendship by Valatine