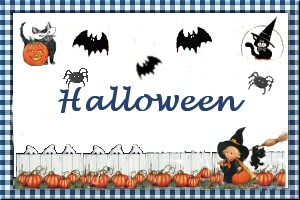 Salted Halloween Pumpkin Seeds
Submitted by: Richelle
seeds from Halloween Jack O'Lanterns
salt and water
Remove seeds from pumpkin and wash off all pulp (you will learn a new the meaning of slippery doing this). Place seeds in shallow baking pans. Half cover seeds with salt water (1 teaspoon salt to 1 cup water). Place in a 200°F oven and bake until all water has evaporated and seeds are crisp. Store in airtight container if they last that long.

Beef in a Pumpkin Costume
Submitted by: Jamie
1 4-pound pumpkin
1 pound lean ground beef
1 cup chopped onion
cooking oil
1/3 cup chopped red pepper
1/3 cup chopped green pepper
1 clove minced garlic
1 teaspoon salt
1/4 teaspoon thyme
1/4 teaspoon pepper
1 7 1/2-ounce can pitted ripe olives
1 8-ounce can tomato sauce
2 beaten eggs

Cut top from pumpkin; scrape out seeds and fibers. Simmer in salted water to cover for 20 to 25 minutes or until almost tender. Drain. Brown beef and onion. Add peppers and garlic. Cook one minute. Remove from heat, stir in remaining ingredients. Spoon into pumpkin. Place "lid" on top. Brush pumpkin with oil. Bake at 350°F for 1 hour. Let stand 10 minutes. Cut into edges to serve.

Pumpkin Seeds
Submitted by: Cheri
pumpkin seeds
salt and water
Dig out the pumpkin seeds. Clean the seed and soak for 2 hours in lightly salted water. (1 tablespoon salt per two cups of water.) Pat the seeds dry and spread them on a lightly oiled cookie baking sheet. Bake in an oven at 200 degrees for 1/2 to 1 hour, or until they begin to look crispy and a light brown. Salt to taste. Let the seeds cool down before eating.

To submit your favorite recipes to be included in the Garden of Friendship Recipe Book, please email them to Barbiel
Background graphics made especially for the Recipes Committee of the Garden of Friendship by Valatine