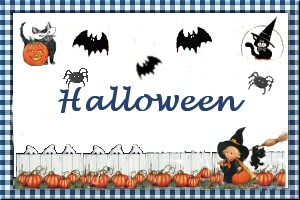 Jack-O-Lantern Cheese Ball
Submitted by: SueW
2 cups shredded Cheddar cheese
1/4 cup solid pack pumpkin
1/4 cup pineapple preserves
1/4 teaspoon ground allspice
1/4 teaspoon ground nutmeg
1 large Pretzel rod, broken in half
4 ounces Cream cheese
dark rye bread
red pepper
black olive slices
parsley sprigs
Beat cheeses, pumpkin, preserves and spices in medium bowl until smooth. Cover and refrigerate 2-3 hours until cheese is firm enough to shape. Shape mixture into round pumpkin, place on serving plate. Using a knife, score vertical lines down pumpkin. Place pretzel rod in top for stem. Cut bread into triangles for eyes, cut red pepper into triangle for nose, and cut olives in half to make the mouth. Surround with parsley.

Goblin Squares
Submitted by: Ginadapooh
2 cups cooked pumpkin
1/2 cup sugar
1 teaspoon ground ginger
1/2 teaspoon nutmeg
1/2 gallon nonfat or low-fat vanilla frozen yogurt
4 dozen gingersnaps
Combine pumpkin, sugar, and spices in a medium-large bowl. Stir in yogurt. Line bottom of a 9 by 13 by 2 inch pan with gingersnaps. Pour half of pumpkin mixture over gingersnaps. Repeat layers and freeze. To serve, remove from freezer, let set at room temperature for 5 minutes and cut into squares.

Shrimp and Cream Cheese in the Pumpkin
Submitted by: Barbiel
Olive oil
1 onion
2 garlic cloves
tomatoes (if wanted, 1 or 2 chopped)
shrimps (about 500 g)
Philadelphia cream cheese (about 400 g)
pumpkin, shaped squash (about 25-30 cm in diameter)
salt and pepper to taste
In a pan, put Olive oil, add chopped onion and garlic and fry. Add chopped tomatoes and cook until you have a 'chunky' sauce. Add shrimps (use small ones, cleaned), mix, and cook only for a while. Add the Philadelphia cheese, mix well, and pour the mixture into the squash (which will be your 'pan'). Season with salt and pepper. Bake (in low-medium heat) until squash is cooked (don't let it overcook!). When serving, take squash pulp together with the shrimp-cheese mixture. Makes 4 servings.

To submit your favorite recipes to be included in the Garden of Friendship Recipe Book, please email them to Barbiel
Background graphics made especially for the Recipes Committee of the Garden of Friendship by Valatine