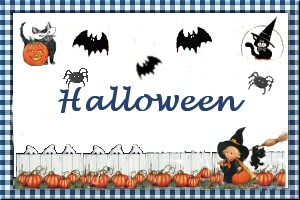 Bloody Brain
Submitted by: Barbiel
1 (9-ounce) package Fettuccine (brain)
1 tablespoon extra virgin Olive oil
1 tablespoon red Wine vinegar
1/4 cup freshly grated Parmesan cheese
1/4 cup chopped fresh basil (or 1 tablespoon dried, crushed)
1 pound fresh tomatoes, chopped
Tomato ketchup enough (blood)
salt and pepper to taste
Break uncooked Fettucini in diferrent lenghts and prepare according to package directions. Toss pasta with Olive oil, vinegar and cheese. Season with salt and pepper. Add basil and tomatoes. Squeeze Tomato ketchup all around salad surface. Season with salt and ground black pepper. Makes 4 servings.

Nausea Nightmare
Submitted by: Barbiel
1 1/2 pounds boneless lamb loin
salt and freshly ground black pepper to taste
1/2 cup plus 2 tablespoons extra virgin Olive oil
3 tablespoons finely chopped fresh basil leaves
3 red bell peppers, roasted and peeled
2 tablespoons red Wine vinegar
10-ounces Feta cheese
1 bunch spinach (about 6 cups packed)
Trim and tie lamb. Season lamb with salt and pepper. In a zip-lock style plastic bag combine lamb, 2 tablespoons oil, and 1 tablespoon chopped basil, turning lamb to coat evenly. Marinate lamb, covered and chilled, 4 hours. Cut roasted peppers into thin 2-inch long strips and in a bowl combine with vinegar and 2 tablespoons oil. Chill peppers, covered, until ready to assemble salad. In another bowl coarsely crumble Feta cheese and stir together with 2 tablespoons oil and 1 tablespoon basil. Cover and chill feta/basil mixture. In a blender puree remaining 1/4 cup oil with remaining tablespoon basil. Season with salt and pepper to taste. Transfer to a small bowl, cover, and chill. Bring basil oil to room temperature before assembling salad. Preheat oven to 450°F (230°C). Heat an ovenproof skillet over medium-high heat until hot and brown lamb on all sides. Put skillet in middle of oven and roast lamb about 10 minutes, or until a meat thermometer registers 140°F (50°C) for medium-rare. Cool lamb. Chill lamb, covered, at least 2 hours. Carve lamb into thin slices. Discard coarse stems from spinach and arrange leaves around edges of 4 large plates. Arrange the peppers evenly over spinach and mound the feta/basil mixture in center of each plate. Arrange lamb slices around feta and drizzle salads with basil oil. Makes 4 servings.

Under my Tomb
Submitted by: Barbiel
2 eggs
1 1/2 heads iceburg lettuce - rinsed, dried and shredded
1 cup chopped celery
1 cup chopped green bell pepper
1 cup chopped green onions
2 cups sliced fresh mushrooms
2 cups frozen green peas, thawed
2 tablespoons bacon bits
2 tablespoons grated Parmesan cheese
2 cups Mayonnaise
2 tablespoons brown sugar
1/2 teaspoon garlic powder
1/2 teaspoon curry powder
salt and pepper to taste
Place eggs in a saucepan and cover with cold water. Bring water to a boil; cover, remove from heat, and let eggs stand in hot water for 10 to 12 minutes. Remove the eggs from hot water, cool, peel and chop. Layer 1/2 of the lettuce in the bottom of a large bowl. Follow with a layer of celery, bell pepper, green onion, mushrooms, peas and egg. Top with remaining lettuce. Prepare the dressing by whisking together the Mayonnaise, brown sugar, garlic powder, salt and pepper and curry powder. Spread evenly over top of salad. Sprinkle with bacon bits and Parmesan cheese. Refrigerate until ready to serve. Makes 10 servings.



Halloween Hunt 2004
...something is very strange... "radioactive" things are on their way... contamination danger...




To submit your favorite recipes to be included in the Garden of Friendship Recipe Book, please email them to Barbiel
Background graphics made especially for the Recipes Committee of the Garden of Friendship by Valatine