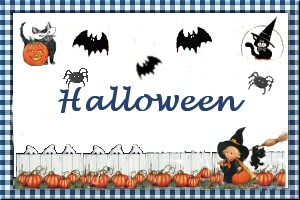 Halloween Spiders
Submitted by: Richelle
1 12-ounce package chocolate chips
1 medium can chow mein noodles (may not need all of them)
1 package M&Ms Plain Chocolate Candy
2 to 4 tablespoons water
Melt chocolate in microwave. Stir in noodles. Drop by spoonsful onto waxed paper. Add 2 M&M's for spider eyes.
Note: Add 2 to 4 tablespoons water, if needed, to thin chocolate

Boogers on a Stick
Submitted by: Squeak
1 jar of Velveeta
green food color
Toothpicks
Salsa (optional)
Melt the Velveeta in the microwave, mix in green food color to desired "booger" color. Dip the toothpicks into the cheese as the first coat sets, dip again, until you have the desired shape and size you want. Sit them on wax paper cheese end down and let set up totally. Serve. If you would like bloody streaks, mix in a bit of salsa so that cheese is streaky.

Halloween Popcorn Balls
Submitted by: Richelle
1 package (4-serving size) orange Jell-O
1 cup light Karo syrup
1 cup sugar
5 quarts of popped corn
Combine first 3 ingredients in a heavy saucepan and bring to a boil. Pour over 5 quarts of popped corn. Form into popcorn balls with buttered hands. Place in a zip-loc baggie or insert a popsicle stick in and then place in a sandwich bag. Makes 12 servings.



Halloween Hunt 2004
!!! You Got It !!!
Congratulations ;o)
Thanks for joining our game
To pick up your Participation Award, please go here




To submit your favorite recipes to be included in the Garden of Friendship Recipe Book, please email them to Barbiel
Background graphics made especially for the Recipes Committee of the Garden of Friendship by Valatine