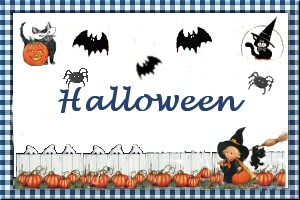 Ghoul-Ade over Gopher Guts
Submitted by: AngelBreath
3 oz Jello red (any flavor)
2 cups lemon juice, bottled
7 cups water
1 cup sugar
green food color
Prepare Jello accoring to directions on package. Chill in freezer until partially set. (about 45 minutes). Put lemon juice and water in large pitcher. Add sugar, and stir until blended. Add food color until Ghoul-ade is the desired shade. Pour Ghoul-ade into individual glasses. Spoon in partially set gelatin Gopher Guts into glass. Serve.

Caramel Marshmallow Apples
Submitted by: AngelBreath
1 package (14 oz) caramels
1 cup miniature marshmallows
1 tablespoon water
5 or 6 small apples
wooden skewers
melted chocolate (optional)
Line baking sheet with buttered waxed paper and set aside. Combine caramels, marshmallows and water in medium saucepan. Cook over medium heat, stirring constantly, until caramels melt. Cool slightly while preparing apples. Rinse and dry apples. Insert skewers into apples. Dip each apple in caramel mixture, coating apples. Place on prepared sheet. Refrigerate until firm. For variety roll apples in crushed peanuts or drizzle with melted chocolate.

Squashed Frogs
Submitted by: AngelBreath
1 stick margarine
40 large Marshmallows (10 oz. bag)
5 cups corn flakes cereal
1/2 teaspoon Vanilla (optional)
2 teaspoons green food coloring
M&Ms plain chocolate candy
Melt margarine in large saucepan. Add marshmallows and cook over low heat, stirring constantly until melted and mixture is syrupy. Remove from heat. Add vanilla and food color. Mix. Add corn flakes and mix until well coated and bright green.

To submit your favorite recipes to be included in the Garden of Friendship Recipe Book, please email them to Barbiel
Background graphics made especially for the Recipes Committee of the Garden of Friendship by Valatine