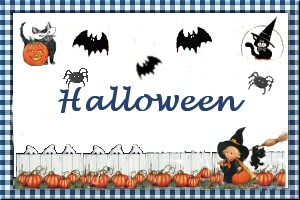 Orange Worms
Submitted by: AngelBreath
2 can apricot halves packed in light syrup
4 envelopes unflavored gelatin
2 cups orange juice
Place apricots in colander and let drain. Place drained apricots in food processor, cover, and whirl until well blended. Place gelatin in 3 quart pan, add orange juice, and let stand for 5 minutes to soften gelatin. Place pan on burner and bring to a boil over med/high heat, stirring with whisk. Turn off burner and remove pan to rack. Add apricots and mix with whisk until well blended. Pour into baking pan, cover with plastic wrap, and refrigerate for about 4 hours, until set. Use butter knife to cut gelatin crosswise into 9 inch long, 1 inch wide strips (you should have about 13 strips). Use pancake turner to remove strips to serving plate. Use your hands to twist strips into worm shapes. Makes 13 worms.

Bloodshot Eyeballs
Submitted by: AngelBreath
7 oz sweetened flaked coconut
1 cup chopped white chocolate or white chocolate chips
2 tablespoons all purpose flour
2 tablespoons Light corn syrup
8 red gumdrops, cut in half crosswise
2 tubes (.68 oz) red glossy decorating gel
Place coconut, white chocolate and flour into the bowl of the food processor and process until finely chopped. Add the corn syrup and process again for about 30 seconds. Be careful not to overprocess or the dough will become oily. Spread a sheet of wax paper on the counter. Roll the dough into 16 balls and stick half a gumdrop into each, the shiny cut side facing out to create pupils for the eyeballs. Set the eyeballs on a sheet of wax paper. Use red decorating gel to make veins so the eyeballs will look bloodshot.

Cat Turd Treats
Submitted by: AngelBreath
16 oz Hershey Chocolate bar
8 oz cool whip, thawed
1 1/4 cups finely crushed Vanilla wafer crumbs
In heavy 2 quart saucepan, melt chocolate bars over low heat. Stir often. Cool to room temp. Fold in cool whip. Cover and chill 1 1/2 hours. Form into 1" balls, roll in cookie crumbs to form cat turd shape. Store in Refrigerator.
Note: It's better to work with a small amount of dough and leave the rest in the refrigerator until ready to roll.

To submit your favorite recipes to be included in the Garden of Friendship Recipe Book, please email them to Barbiel
Background graphics made especially for the Recipes Committee of the Garden of Friendship by Valatine