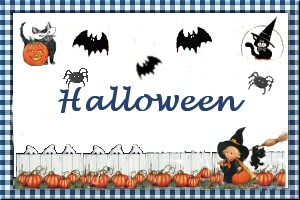 Candy Apples
Submitted by: Jezebel Jen
12 red apples
3 cup granualted sugar
1 cup corn syru
1 cup water
1/2 teaspoon cinnamon
1/4 teaspoon red food coloring
Wash and dry apples then firmly insert a wooden meat skewer or stick in stem end. Lightly grease a baking sheet. In a saucepan, combine the sugar, corn syrup and water. Heat, stirring constantly, until sugar dissolves. Cover and bring to boil. Boil, uncovered and without stirring, until a few drops in cold water separate into threads 300 degrees on a candy thermometer. Blend in cinnamon and red food colouring. Remove from heat. Tip saucepan and dip apples in syrup turning to coat evenly. Place on prepared baking sheet to harden. Makes 12.

Haunted Snack Mix
Submitted by: Vicki B.

4 cups Post Halloween Waffle Crisp Cereal
(you can substitute Waffle Crisp cereal with Honey Comb cereal)
1 1/2 cups miniature marshmallows
1 cup Chocolate chips

Mix all ingredients in a large bowl. Serve as a snack.

Creepy Crawly Gelatin
Submitted by: Vicki B.
1 1/2 cups boiling water
1 package 8-serving size or 2 packages 4-serving size JELL-O brand orange flavored gelatin
cooking spray
1 1/2 cups cold water
Gummy Worms
Stir boiling water into gelatin in large bowl at least 2 minutes until completely dissovled. Stir in cold water. Pour into 9-inch pieplate which has been sprayed with non-stick cooking spray. Refrigerate about 1 1/2 hours or until thickened (spoon drawn through leaves definite impression). Push gummy worms into gelatin. Refrigerate 2 hours until firm. Unmold and garnish with additional gummy worms if desired.

To submit your favorite recipes to be included in the Garden of Friendship Recipe Book, please email them to Barbiel
Background graphics made especially for the Recipes Committee of the Garden of Friendship by Valatine