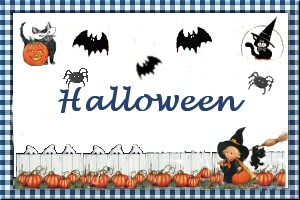 Worms in Dirt
Submitted by: Mary
3/4 cup chocolate pudding
1/4 cup chocolate pie crust crumbs or graham cracker crumbs
2-4 gummy worms
Layer 3/4 cup of chocolate pudding into desert dish. Top with 1/4 cup of chocolate pie crust crumbs or graham crackers crumbs, then 2-4 gummy worms, half buried in the chocolate pie crust crumbs, hanging out of the dish.

Ants on a Log
Submitted by: Mary

Rinse 1 or 2 celery stalks.
Cut the stalks into halves or thirds.
Fill the hollow of each celery piece with peanut butter then sprinkle raisins across the peanut butter.

Goblins Old Fashsioned Applesauce
Submitted by: Mary
3 tablespoon butter
6 macintosh apples, cored, peeled and chopped
1/4 cup sugar
1 teaspoon cinnamon
1/2 teaspoon nutmeg
4 tablespoon water
Combine all ingredients in a saucepan and cook over medium heat until apples become very tender, about 30 minutes. Applesauce may be left lumpy or pureed with a handblender to become smoother.

To submit your favorite recipes to be included in the Garden of Friendship Recipe Book, please email them to Barbiel
Background graphics made especially for the Recipes Committee of the Garden of Friendship by Valatine