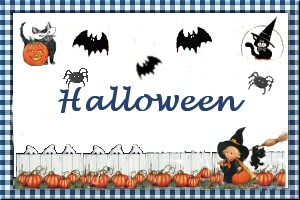 Halloween Popcorn Grunch
Submitted by: LisaW
8 cups popcorn
1/2 cup salted pumpkin seeds
1/2 cup dried cranberries or raisins
1/2 cup banana chips, broken into pieces
1 1/2 cups sugar
1/2 cup Corn syrup
1/4 cup water
1/4 cup butter
1 teaspoon vanilla
In large buttered bowl, combine first 4 ingredients; set aside. In medium saucepan combine sugar, corn syrup and water; bring to a boil. Cook, covered 3 minutes. Uncover and cook, without stirring, until mixture reaches hard-ball stage (260°F), 4 - 5 minutes. Add butter and vanilla; cook, stirring 1 minute. Pour over popcorn mixture; toss quickly to coat. Turn mixture out onto greased baking sheet and spread using buttered hands. Cool and break into pieces.

Wormy Baked Apples
Submitted by: LisaW
6 large Golden Delicious apples
1/2 cup raisins
1/2 cup chopped walnuts
1/2 cup firmly packed brown sugar
1/4 cup water
1/4 cup (1/2 stick) butter or margarine
1/2 tablespoon ground cinnamon
1/2 tablespoon ground nutmeg
6 Wiggly candy worms ("Gummy Worms")
1 cup Whipping cream (optional)
Core apples from blossom ends, leaving stem ends intact. Mix raisins and walnuts and stuff into cavities of cored apples. Set apples, stems up in a 7x12-inch pan. In a 1 to 2 quart pan, mix brown sugar, water, butter,cinnamon, and nutmeg; stir over high heat until mixture boils. Pour hot syrup around apples. Bake, uncovered, in 350~ oven, basting occasionally with syrup, until apples are tender when pierced and skin begins to crack, 30 to 35 minutes. Remove apples from oven; cool in pan at least 10 minutes or let cool to room temperature. Set each apple in a small bowl and spoon syrup around fruit. In the top of each apple, cut a hole large enough for one of the candy worms and tuck one end into each apple, leaving most of the worm dangling. Offer cream to pour over apples. Makes 6 ghastly servings.

Halloween Snack Mix
Submitted by: LisaW
1/2 cup blood drops (red hots)
1/2 cup cats eyes (blanched almonds) or (gum drops)
1/2 cup cats claws (sunflower seeds)
1 cup chicken toenails (candy corn)
1 cup colored flies (M & M's)
1 cup butterfly wings (corn chips)
1 cup ants (raisins)
1 cup earthworms (cheese curls)
1 cup cobwebs (Triscuits) or (Golden Grahams)
1 cup snakes eyes (peanuts)
1 cup bats bones (shoestring potatoes)
Mix together in a large bowl and serve.

To submit your favorite recipes to be included in the Garden of Friendship Recipe Book, please email them to Barbiel
Background graphics made especially for the Recipes Committee of the Garden of Friendship by Valatine