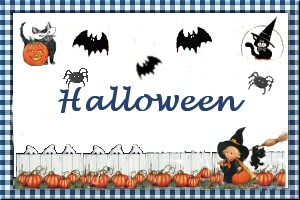 Monkey Brains
Submitted by: Merribuck
large curd Cottage cheese
red gelatin
Mix gelatin according to recipe, but with only half the water. Scoop a spoonful of cottage cheese and drop it into the gelatin. Scoop out of gelatin with a slotted spoon and place into small round-bottomed bowl. Set. Turn out before serving.

Critters in the Hay
Submitted by: Barbiel
(Recipe from Jamie)
1 1/2 cups sugar
1 cup light corn syrup
2 tablespoons butter
1 1/2 teaspoons Pumpkin pie spice
1 teaspoon vanilla
1/2 teaspoon salt
1/2 teaspoon green food color (optional)
1 cup Candy corn
3 1/2 quart popped popcorn
(remove any unpopped kernels)
licorice ropes: black
wooden picks
small black gum drops or other small black candies
red decorating icing
tiny red jaw-breakers candy
worm-shape candies
In Dutch oven, bring sugar, corn syrup and butter to a boil. Boil 2 1/2 minutes. Stir in pumpkin pie spice, vanilla, salt and food coloring (if desired) mix until evenly colored. Add popcorn and toss until evenly coated. Spread popcorn mixture in a single layer on greased sheets of foil and allow to cool and harden. Break into bite-size pieces and mix with candy corn in a wide shallow bowl. Set aside.
Making spiders: Cut licorice into 2 inch lengths.
Making legs: Starting at one end, make three 1/2 inch to 3/4 inch cuts to make four legs. Repeat cuts at opposite end. Leave about 1/2 inch in center uncut. Gently pull legs apart and curl down. Push wooden pick through center of body, leaving about 1/4 inch exposed on top. Push one gumdrop onto exposed pick to make a body. Using writing tip of decorating icing, squeeze two small dots of icing into gumdrops. Press jaw-breakers into icing to make eyes. Place "spiders" and worm-shaped candies in popcorn. Remove wooden picks before eating. Makes 4 quarts.

Shrunken Heads
Submitted by: Barbiel
8 medium apples
8 wooden craft sticks
butter
1 cup coarsely chopped nuts, such as pecans, walnuts, or peanuts
21 oz. (about 75) vanilla caramels or chocolate caramels, unwrapped
3 tablespoons water
6 oz. vanilla-flavor candy coating
2 teaspoons shortening
desired candies for decoration:
(licorice, candy corn, gumdrops, candy-coated chocolate pieces)
tubes of writing gel decorating icing
canned frosting
Wash and dry apples. Remove stems. Insert one wood stick into the stem end of each apple. Place apples on a buttered baking sheet. Place chopped nuts in a shallow dish. Set aside. In a heavy medium saucepan, heat and stir the caramels and water over medium-low heat just until caramels are melted. Dip each apple into hot caramel mixture, spooning caramel evenly over apple. Allow excess caramel to drip off. Briefly set bottoms of apples in chopped nuts. Set apples on prepared baking sheet and let stand about 30 minutes or until firm. In a heavy, small saucepan, heat and stir the vanilla flavor candy coating and shortening over low heat just until mixture is melted. Holding apples over the saucepan, spoon the melted candy coating evenly over the tops of the caramel-coated apples. Return to baking sheet and let stand about 30 minutes or until firm. Decorate the apples to resemble faces or monsters using desired candies and writing gel. Use writing gel or canned frosting to attach candies to dipped apples. Makes 8 medium apples.
Note: Prepare apples as directed. Cover and chill for up to two days.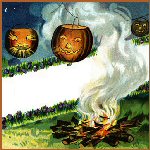 Halloween Hunt 2004
Vampires are everywhere...but we have something "against" them...




To submit your favorite recipes to be included in the Garden of Friendship Recipe Book, please email them to Barbiel
Background graphics made especially for the Recipes Committee of the Garden of Friendship by Valatine