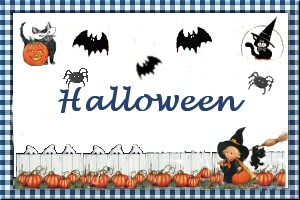 Butternut Squash Crunch
Submitted by: Sandi
1/3 cup sugar
1/4 cup skim milk
1 teaspoon ground cinnamon
1 teaspoon vanilla extract
1/4 teaspoon salt
1/4 teaspoon ground nutmeg
1 large egg
1 large egg white
3 10-ounce packages frozen butternut squash
1/4 cup water
cooking spray
1 cup miniature marshmallows
1/2 cup firmly packed brown sugar
2 tablespoons all purpose flour
1 tablespoon stick margarine, melted
Preheat oven to 350°F. Combine first 8 ingredients in a large bowl; stir well, and set aside. Add the squash to the egg mixture, stirring well. Spoon into a 1 1/2 quart baking dish coated with cooking spray, and top with marshmallows. Combine brown sugar, flour and margarine in a small bowl; stir well, and sprinkle over marshmallows. Bake at 350°F for 25 minutes or until filling is bubbly and light brown.

Shrunken Apple Heads
Submitted by: AngelBreath
large red or Golden Delicious apple (or other apples)
1/3 cup lemon juice
1 tablespoon salt
whole cloves
rice
bottle cap
Peel apple and coat with mixture of lemon juice and salt. With a potato peeler, knife, or pumpkin carver carve out eye sockets, nose, mouth and ears. Stick whole cloves where eyes should be and rice where teeth should be. Sit apple on top of bottle cap. Place on a drying rack in a warm, dry place for about 2 weeks. Shape the face as it shrinks and hardens. Once dry, insert a strong wire to form body and add clothes if desired or other accessories.

Wormy Gelatin
Submitted by: AngelBreath
1 1/2 cups boiling water
1 large package (8-serving) orange Jell-O
1 1/2 cups cold water
wiggly candy worms "gummy worms"
Spray a 9-inch pie plate with cooking spray. In a large bowl, stir boiling water into gelatin. Stir for a minute or two, until completely dissolved. Stir in cold water; pour into pie plate. Refrigerate for about 1 1/2 hours, or until partially thickened. Push gummy worms into gelatin. Refrigerate until firm, about 2 more hours. To unmold, dip pie plate in warm water for about 15 seconds then gently loosen edges with moistened fingers. Place a moistened plate over the pie plate then invert, holding plates together. Garnish with more gummy worms. Serves about 8.

To submit your favorite recipes to be included in the Garden of Friendship Recipe Book, please email them to Barbiel
Background graphics made especially for the Recipes Committee of the Garden of Friendship by Valatine