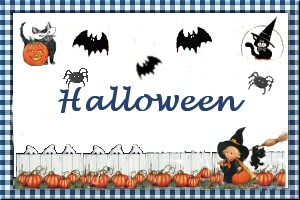 Halloween Spiders I
Submitted by: AngelBreath
2 tablespoons peanut butter
2 tablespoons powdered sugar
2 tablespoons Graham cracker crumbs
2 tablespoons coconut
licorice
raisins
Mix peanut butter, sugar and crumbs together and form a ball. Divide the ball into 2 parts to form 2 balls, 1 slightly smaller than the other. Roll balls in coconut and place smaller ball on top of larger one. The smaller ball with be the head and the larger 1, the abdomen. Add 8 licorice legs and 8 raisin eyes. Makes 1 scary spider.

Frozen Jack-O-Lanterns
Submitted by: AngelBreath
12 navel oranges
12 cinnamon sticks
1/2 gallon dark chocolate ice cream
Cut off tops of oranges. Gently hollow out pulp (reserve for another use), leaving a thick shell; hollow out pulp off tops also. Cut Jack-O-Lantern faces into each orange. Pack chocolate ice cream into shells, avoid letting ice cream come out of holes. Cut a hole into top of orange top. Set tops back on, over ice cream, and inset cinnamon stick stem through the hole. Place in freezer for at least 3 hours, or until serving time.

Ice Cream Vampire Bats
Submitted by: AngelBreath
4 (3 1/2 inch) soft oatmeal, cookies
4 large scoops of chocolate ice, cream
assorted candies for decoration, such as candy corn, licorice whips, jellybeans and fruit rolls
For the "Bat's Wings": Place cookies on a work surface. Cut cookies in halves. Using a teaspoon, cut a scalloped edge on the straight side of each cookie; set aside.
For the "Bat's Body": Place a scoop of ice cream on four individual serving plates. Using a knife make 1/2" deep cut on opposite sides of each scoop of ice cream.
To assemble: Insert the end of cookie half into each cut in the scoop of ice cream to form wings. Decorate ice cream with candies to create the bat's face. Use licorice whips for the ears, jelly beans for the eyes, candy corn for the fangs. Serve immediately or freeze up to two hours before serving. Yields 4 servings.


To submit your favorite recipes to be included in the Garden of Friendship Recipe Book, please email them to Barbiel
Background graphics made especially for the Recipes Committee of the Garden of Friendship by Valatine