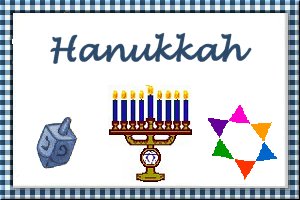 Apricot Chicken
Submitted by: Sandi
6 skinless, boneless chicken breast halves
1 1/2 1-ounce packages dry onion soup mix
1 10-ounce bottle Russian-style salad dressing
1 cup apricot preserves
Preheat oven to 350 degrees. Place the chicken pieces in a 4-quart casserole dish. Mix the soup mix, dressing and jam together, and pour over the chicken. Cover dish and bake for 1 hour in preheated oven. Makes 6 servings.

Potato Latkes
Submitted by: Sandi
2 cups peeled and shredded potatoes
1 tablespoon grated onion
3 eggs, beaten
2 tablespoons all-purpose flour
1 1/2 teaspoons salt
1/2 cup peanut oil
Place the potatoes in a cheesecloth and wring, extracting as much moisture as possible. In a medium bowl stir the potatoes, onion, eggs, flour and salt together. In a large heavy-bottomed skillet over medium-high heat, heat the oil until hot. Place large spoonfuls of the potato mixture into the hot oil, pressing down on them to form 1/4 to 1/2 inch thick patties. Brown on one side, turn and brown on the other. Let drain on paper towels. Serve hot! Serves 10-12.

Bulgur and Vermicelli Pilaff
Submitted by: Barbiel
1 large onion, finely chopped
3 tbs oil
9 oz. (250 g) bulgur (cracked wheat)
3 oz (75 g) vermicelli (very fine pasta)
22 fl oz. (625 ml) (approx.) hot chicken stock (or vegetarian stock)
1/2 teaspoon salt
15 grinds black pepper
Sauté the onion in the oil until soft and golden. Add the vermicelli broken into short lengths, then stir around in the onion for a further 3 minutes. Add the bulgur, salt and pepper and continue to cook for a further 3 or 4 minutes. Finally add enough of the hot stock barely to cover the mixture. Cover and simmer until the stock has almost been absorbed - about 10 minutes. Taste to ensure the bulgur is tender; if not add the remaining stock, cover and simmer for a further 2-3 minutes. Take off the heat, cover the pan with a tea towel under the lid, and stand for 10 minutes. Reheat well, particularly in the microwave. Serves 6-8.

To submit your favorite recipes to be included in the Garden of Friendship Recipe Book, please email them to Barbiel
Background graphics made especially for the Recipes Committee of the Garden of Friendship by Valatine